A Sing-Along Holiday Supper Celebration Experience Featuring Prince Havely & Laura Van Duzer


December 17, 2023




4:00 pm
Please join us at L'Auberge Chez Francois on Sunday, December 17th, 2023 at 4pm to kick off the season with our fifth annual festive and lively Sing Along Holiday Supper Celebration Experience featuring two of Washington's favorites, Prince Havely and Laura Van Duzer!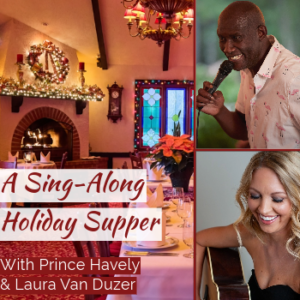 Prince Havely, one of customer favorites, has performed at numerous prestigious venues, including the White House and with the National Opera and the Capital Steps. One of the most recognized vocal talents in the region, Prince brings a level of elegance and style with his vast repertoire and charm that appeals to guests of all ages. Prince is also one of our most requested entertainers at L'Auberge Chez Francois!
Joining Prince for our festive holiday sing-along experience will be the effervescent Laura Van Duzer. Laura, a multi-talented singer-songwriter, performer, pianist, and guitarist will be leading us today on all the fun. Laura also holds the position of Music Director and Performing Arts Department Chair for the Academy of Holy Cross, in Maryland, and is the former Choral Director for Bishop Denis J. O'Connell High School in Arlington, VA. She also is a performer in many dinner theaters and stages in plays and musicals, and lead keyboard and vocals for the The Chance Club Band.
This is certainly one epic Holiday evening not to be missed! This musical evening will feature all your favorite holiday classics for singing along, tapping your feet or fun listening pleasure.
Jacques will begin the evening with a Crémant d'Alsace toast to the holidays before the delectable food and music begin. Guests will be served on spacious communal tables for this very special always sold-out event.
All of our spectacular holiday decorations will be in place and ready to complement this festive night of holiday music and good cheer. Happy Holidays indeed at L'Auberge Chez Francois and Jacques' Brasserie.
A Sing-Along Holiday Supper Celebration Experience Menu
Chef Jacques Seasonal Canapes
Domaine Bott-Geyl Cremant d'Alsace Extra Brut "Paul-Edouard"
Corbeille de Pain (Bread Basket)
Multi Grain & Sourdough Breads, Local Butter
APPETIZER
La Bouillabaisse de Papa – Papa François' medley of Lobster, Shrimp, Scallops, Halibut, Mussels, in an aromatic Saffron Broth, Garlic Croutons
Domaine des Terrisses, Gaillac Blanc 2021
Organic Mesclun Salad, House-Made Vinaigrette
Holiday Seasonal Sorbet
ENTRÉE
Tapenade Crusted Creekstone Farms Natural Filet Mignon Seasonal Vegetables, Roasted Potatoes
Domaine La Luminaille, Rasteau "Luminaris" 2019
DESSERT
Holiday Mille-Feuille Napoleon
Julius Meinl Coffee, A Selection of Harney & Sons Fine Teas
Event Price: $130.00 per person, excluding tax and gratuity; for a total of 167.00 per person.
Tickets are non-refundable. We are happy to accommodate guests' dietary concerns, so all may join the festivities.
Please email chezlauberge@aol.com or call 703-759-3800 with special requests.
Patrons will have an opportunity to purchase these top-rated wines at very special holiday pricing for your home celebrations and also make for wonderful holiday memories and gifts!
Please call to be added to our waitlist, if sold out.