Rock & Roll Musique et Cuisine Experience "Beneath a Waning Crescent Moon" Featuring The Tunematics, Playing the Hit Songs You Know and Love


August 25, 2022




6:00 pm - 9:00 pm
La Grande Tente Terrace – Very Exclusive Seating
This entertaining group returns for an evening performance of Rock & Roll Musique et Cuisine on Thursday, August 25th at 6:00pm. And yes, "Little Red Riding Hood" will be featured and enlivened with some spirited yowls at the night's waning crescent moon along with your favorite hit songs from the 50s to the 90s.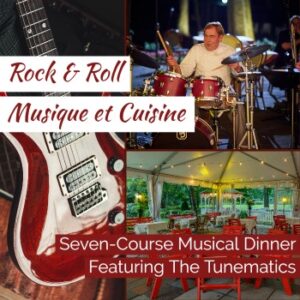 If you were at their last sold-out show, you know The Tunematics will serve up your favorite songs, with a good time vibe that will make you smile, clap or get up and dance!
Playing a blend of hit songs, this trio includes veteran D.C. musicians with decades of experience performing popular music. The group includes Scott Butler, guitar and vocals, Tim Wynne, bass and vocals, and drummer Wil Cameron, playing the music they know and love. Their fun delivery with excellent and vocals have made them an entertainment favorite for special events. (The evening will feature an enticing menu and delectable paired wines and a few songs by our own Chef Jacques on drums!)
Our Rock & Roll Musique et Cuisine Experience will be offered on our covered garden terrace, under our 40ft x 55ft Grande Tente. Complete with six cooling fans, café bistro lighting, and pastoral views of our six acres, two on-site gardens, koi pond, blooming flowers, it will be the perfect setting to relax and enjoy fabulous music and delectable dishes!
Join us for what promises to be a lively, fun filled evening! Early purchase of tickets is suggested, as this musical experience always sells out!
ROCK & ROLL MUSIQUE ET CUISINE MENU
Chef's Amuse Bouche
Albrecht Cremant d'Alsace Rose
Corbeille de Pain
Harvest Multigrain, Sourdough Rolls, Local Butter
Arctic Char with "Napoléon d' Haricots Verts, Coulis de Tomate du Jardin"
Round Pond Estate Sauvignon Blanc Napa Valley 2021
Chef Jacques Garden Tomato and Basil Salad with Herb Maison Vinaigrette
Chef's Seasonal Sorbet
Grilled Creekstone Farms Sliced Natural Sirloin, Herb Spätzle Pepper Cabernet Reduction
Les Cadrans de Lassegue St. Emilion 2018
Tart au Citron Vert – Lime Tarte, Lime Sorbet
Julius Meinl Roasted Coffee, Selection of Harney & Sons Premium Tea
Event Price: $158.00 (excluding tax and gratuity); for a total of $202.00 per person.
We are happy to accommodate guests' dietary concerns, so all may join the festivities. Please email chezlauberge@aol.com or call 703-759-3800 with special requests. Tickets non-refundable. Patrons will have an opportunity to purchase these wines at a very special price this evening.