A Grand Holiday Exclusive Seven-Course Champagne Dinner Experience 


December 9, 2021




6:00 pm - 8:00 pm
Garden Room – Generously Spaced Tables – Very Limited Exclusive Seating
Please join us Thursday, December 9th at 6:00pm for a Grand Holiday Champagne Dinner Experience as Chef Jacques and team welcome Monsieur Nicolas Dornic of Banville Wine Merchants to present the magnificent wines of Champagne Philipponnat.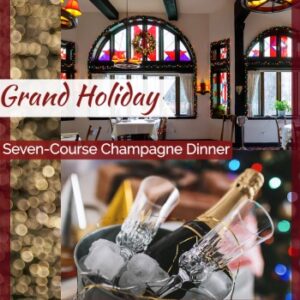 The Philipponnat family has been growing grapes in Champagne since 1522, with the House founded in 1910. Charles Philipponnat took over as CEO in 1999, making Philipponnat one of the increasingly rare Champagne houses still led by a member of the founding family. Located in Mareuil sur Aÿ on the south side of the Montagne de Reims, Philipponnat is primarily a pinot noir house, crafting wines that combine power, elegance, and richness without sweetness – Champagnes for the holiday dinner table and for winter celebrations.
Raised in Brittany in the northwest of France,  Nicolas Dornic has spent much of the last twenty years in the wine business in Washington, D.C., spreading the love of amazing wines and of course, festive champagnes.  We consider ourselves very lucky to have these highly rated champagnes available to our guests at L'Auberge in a time where champagne supplies have proven very hard to obtain.   
Our highly anticipated Holiday Champagne Dinner Experience will be presented in our beautiful Garden Room, which boasts a fireplace, large windows, 15-foot ceilings and a sweeping view of our organic vegetable gardens. We are accommodating you for generous spacing and are offering the perfect setting for an intimate, relaxing, and delectable seven-course champagne-themed repast. 
Chef Jacques has composed a delectable Holiday Menu Dégustation experience to celebrate the deliciousness of these champagnes, and to get you into the wondrous spirit of this holiday time.   Patrons will have the opportunity to purchase these wines at very special pricing this evening for your own holiday gatherings.  Be treated to inside and outside extraordinary, award-winning holiday lighting, decorated trees, holiday flowers, and three roaring fireplaces that will surely enhance your Grand Holiday Celebration Experience with L'Auberge Chez Francois and our team.
See you there – please remember to sign up early, as seating is very limited. Vive La France et Joyeuses Fêtes!
Philipponnat Champagne Experience Le Menu Dégustation
Les Hors d'Oeuvres
Philipponnat Royale Réserve Brut
Cours de Pain (Bread Course)
Multi Grain & Sourdough Breads, Local Butter
Gratin of Nantucket Bay Scallops, Roasted Shitake Mushrooms, Champagne Sauce, Smoked Trout Caviar
Philipponnat Royale Réserve Brut Rosé
Grilled Maple Leaf Farms All Natural Duck Breast, L'Auberge Chez Francois Wild Rice, Duck Jus
Philipponnat Blanc de Noirs 2012

Champagne Sorbet
Our Classic Maine Lobster Thermidor
Maine Lobster, Crème Cognac Sauce, Cheese Medley, Garden Vegetables                                                                                                                    Philipponnat Cuvée 1522 2014                                                                                                                                        
 Chef Pascal's Chocolate Ganache and Raspberry Mousse Gateau, Raspberry Sauce
Locally Roasted Coffee and Harney & Sons Fine Teas
Event Price: $250.00, excluding tax and gratuity; for a total of $320.00 per person.      

Tickets non-refundable. Please remember to sign up early, as seating is very limited. Please call for more information or if event is sold out, please call to be added to our wait list. We are happy to accommodate guests' dietary concerns, so all may join the festivities. Please email chezlauberge@aol.com or call 703-759-3800 with special requests. Patrons will have an opportunity to purchase these top-rated wines at a special holiday price for your home celebrations and also make for wonderful holiday memories and gifts.