"A Pleine Lune (Full Moon) Fete" Six-Course Dinner Experience Hosted by Chef Jacques Featuring the Smooth Sounds of Prince Havely


May 26, 2021




6:00 pm - 9:00 pm
Le Grand Tente Terrace – Very Limited Exclusive Seating
Please join Chef Jacques and the team at L'Auberge Chez François during the full moon on Wednesday May 26th at 6:00pm as we continue,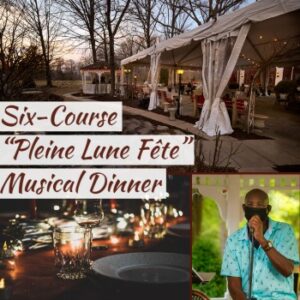 by popular request, our "Pleine Lune" full moon fête on our beautiful outdoor terrace, under our Grande Tente, featuring the smooth sounds of ours and customers' favorite, Prince Havely.
Sip chilled 2 Lunes, Crémant d'Alsace and savor tasty seasonal canapés. Dine on Chef Jacques specially created six-course dégustation, paired with delectable all French wines chosen by our sommelier as we view and celebrate the moon's fire, abundance, power and vitality.
Join Chef Jacques to conclude the evening by howling at the moon, the chef's tradition to ensure an excellent harvest of vegetables and herbs throughout the season. Be ready to feast, and enjoy sumptuous French wines on our glorious grounds, and enjoying the soothing and romantic tunes of the great Prince Havely, whilst howling at the moon! White Attire, optional.
Bon Appetite! Viva Pleine Lune!
"A Pleine Lune (Full Moon) Fete" Six Course Dinner Experience Menu
1st Course
Seasonal Canapés
2 Lunes, Crémant d'Alsace
2nd Course
Cours de Pain: Harvest Multigrain & Sourdough Rolls, Local Butter
3rd Course
Sautéed  Maine Diver Scallops, Wilted Garden Spinach, Beurre Blanc
Bott-Geyl, Points Cardinaux Métiss
Intermission- Seasonal Sorbet
4th Course
La Salad de l'Auberge, Housemade Vinegrette
5th Course
Creekstone Farms Natural "Steak Café de Paris", Potatoes Boulangere, Seasonal Vegetables
Château Durand-Laplagne, Puisseguin-St-Emilion
6th Course
Classic "Oeufs A La Neige (Snow Eggs)
Gillette's Locally-Roasted Coffee, Selection of Harney & Sons Teas
Event Price: $160.00
excluding tax and gratuity; for a total of $205.00 per person.
Tickets non-refundable. We are happy to adjust the menu to accommodate guests' dietary restrictions. Please note our special events have banquet-style seating. Should you have alternative requests, please email chezlauberge@aol.com or call 703-759-3800.