A Very Special "La Fête Nationale" French Bastille Day Celebratory Six-Course Wine Dinner Experience with Special Guest Hugues Beaulieu, Elite Wines


July 14, 2022




6:00 pm - 9:00 pm
La Grande Tente Garden Terrace
Pour célébrer la fête nationale de la France, le chef Jacques et son équipe ont organisé une expérience très spéciale de dîner à six plats pour célébrer le Bastille Day. Nous avons invité notre ami et collaborateur de longue date, Hugues Beaulieu d'Elite Wines, à nous fournir desbastille day six course wine dinner vins fins de l'un des meilleurs pays producteurs de vin au monde, la FRANCE à l'occasion de la Fête Nationale – Jeudi 14 juillet à L'Auberge Chez François.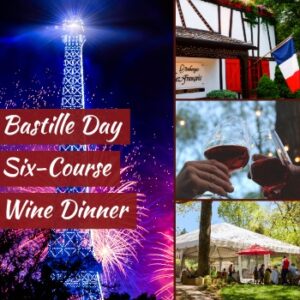 To celebrate France's National Day, Chef Jacques and team have curated a very special "Bastille Day Celebratory Six Course Wine Dinner Experience." We have invited our friend and long-time collaborator, Hugues Beaulieu of Elite Wines, to provide us with fine wines from one of the world's best producing wine country, FRANCE on La Fête Nationale- Thursday, July 14th, at L'Auberge Chez François.
Hugues Beaulieu, Virginia Sales Manager for Elite Wines Imports and former Beverage Director/Head Sommelier at The Inn at Little Washington, will guide us through superb wine parings. Hailing from the Loire Region of France, Hugues completed the advanced level of the Court of Master Sommelier's Program.
Our Bastille Day Celebratory Dinner Experience will be offered on our covered garden terrace 40ft x 55ft Grande Tent. Complete with six cooling fans, cafe bistro lighting, pastoral views of our six acres, two on-site gardens, koi pond, blooming flowers, you will be sure to enjoy our special Fête National Soiree.
Chef Jacques and team will create an enticing six-course menu de degustation featuring French Classics, Poissons and Fruits de Mer paired with Hugues selection of five fine French wines from his French portofolio. Don't miss Chef Jacques and "The French Connection" at L'Auberge Chef François singing, of course, their rendition of the French National Anthem.
Vive la France, Happy La Fête Nationale et Bon Appétit!
CÉLÉBRATION DU 14 JUILLET 2022 DÎNER VIN À SIX SERVICES MENU EXPÉRIENCE
BASTILLE DAY CELEBRATORY SIX-COURSE WINE DINNER EXPERIENCE MENU
L'Auberge Chez Francois' Corbeille de Pain
Multi Grain & Sourdough Breads, Local Butter
Bastille Day Seasonal Amuse Bouche
Salasar Crémant de Limoux
Gaspacho du Jardin du Chef avec Crevettes de Caroline Grillées
Chef's Garden Gazpacho with Grilled Carolina Shrimp
Karine Lauverjat, Pouilly-Fumé, Loire Valley 2020
Saumon de Norvège Froid en Croûte d'Herbes, Rémoulade d'Herbes du Jardin, Ciboulette
Herb Crusted Chilled Norwegian Salmon, Garden Herb Rémoulade, Chives
Laurent Martray, Côte de Brouilly "Les Feuillées", Beaujolais 2019
Magret de Canard Grillé, Riz Sauvage, Légumes du Jardin Grillés, Jus de Canard
Grilled Maple Leaf Duck Breast, Wild Rice, Garden Vegetables, Duck Jus
François Villard, Syrah "L'Appel des Sereines", Rhône Valley 2019
Château Yvonne, Saumur-Champigny "La Folie", Loire Valley 2020
Trois Couleurs Napoléon aux Framboises et Myrtilles du Pays
Trois Couleurs Napoléon with Local Raspberries and Blueberries
Locally Roasted Coffee, Selection of Harney & Sons Fine Teas
Event Price: $165.00, excluding tax and gratuity for a total of $212.00 per person.
Tickets non-refundable. We are happy to accommodate guests' dietary concerns, so all may join the festivities. Please email chezlauberge@aol.com or call 703-759-3800 with special requests. Patrons will have an opportunity to purchase these very special wines at a special price this evening.