December 8, 2019




11:00 am - 2:00 pm
Sunday, December 8, 11:00 AM
Please join us at L'Auberge Chez François on Sunday, December 8th at 11:00 AM for a delectable Yuletide Holiday musical brunch featuring a favorite entertainer, Laura Van Duzer.
Laura, a multi-talented singer-songwriter,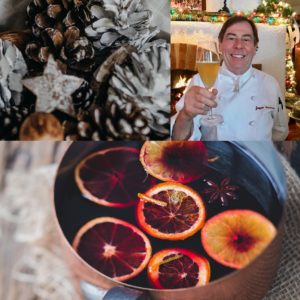 performer, pianist, and guitarist will be leading us today on all the fun.  Laura also holds the position of Music Director and Performing Arts Department Chair for the Academy of Holy Cross, in Maryland, and is the former Choral Director for Bishop Denis J. O'Connell High School in Arlington, VA, as well as a performer in many dinner theaters and stages in plays and musicals, and lead keyboard and vocals for the The Chance Club Band.  Hum, Sing-along or listen to all your holiday favorites today!
Dine on house-made buttery croissants, brunch cocktails, and a selection of Chef Jacques' very special holiday favorites (oysters, mushrooms, lobster, caviar, foie gras, filet mignon, chocolate and hazelnut, oh my) while listening to the seasonal sounds provided by Laura. You'll be sure to get into the holiday spirit in front of the fireplace surrounded by our sparkling lights and decorations. We hope to toast this holiday season with you and yours!
MENU
Basket of Assorted Breads and Housemade Croissant, Local Butter
Lucien Albrecht Crémant, Hot Mulled Spiced Wine, Virginia Apple Cider Mimosas
APPETIZERS:
Choice of one:
Maine Lobster Martini, Lobster, Lemon and Lime Juice, Sour Cream, Caviar
Exotic Mushroom Flan with Shallot Confit
– or –
Four Raspberry Point Oysters; served Cold with Sauce Mignonette or Hot with Béarnaise
ENTRÉES:
Choice of one:
"Rossini" Filet Mignon Benedict , Foie Gras Mousse, Poached Organic Eggs, Truffle Sauce, Roasted Potatoes, Garden Vegetables                                                                                                                             -or-
Maine Lobster and Sevruga Caviar Omelet, Roasted Potatoes, Garden Vegetables
– or –
Classic Chicken Vol-Au-Vent, Whiffle Tree Farms Organic Chicken, Mushrooms, Puff Pasty, Sherry and Creme Sauce
DESSERT:
Champagne Valrhona Chocolate Mousse
– or –
L'Auberge Chez Francois' Hazelnut Souffle
Gilette's Locally-Roasted Coffee, Harney & Sons Fine Teas
$70.00,
excluding tax and gratuity; for a total of $90.00
Tickets non-refundable
We are happy to accommodate guests' dietary concerns, so all may join the festivities.  Please email chezlauberge@aol.com or call 703-759-3800 with special requests
Details
Price
Qty
All Inclusive
$90.00

(USD)

Sold Out