"L'eté est Arrivé!" "Summer Has Arrived" Musical Brunch Experience Featuring the Music of John Sweet


July 31, 2022




11:00 am - 1:00 pm
La Grande Tente Garden Terrace
Please join our uplifting "L'été est Arrivé!" "Summer Has Arrived" Musical Brunch Experience on Sunday, July 31st at 11:00am, featuring the always entertaining music of John Sweet.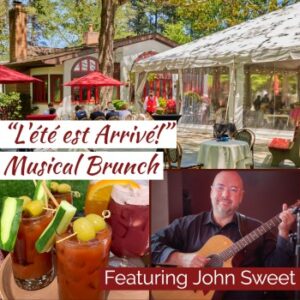 Our "Summer Has Arrived" Brunch will be offered on our covered garden terrace 40ft x 55ft tent. Complete with six cooling fans, cafe bistro lighting and pastoral views of our 6 acres, two on-site gardens, koi pond, blooming flowers. Our Grande Tente will be the perfect place for a relaxing and uplifting musical afternoon with Chef's delectable brunch offerings.
John Sweet, a finger style guitarist, has been performing live for more than 27 years. He is a self-taught entertainer who creates his own instrumental arrangements of familiar songs presented in a new way on his guitar. From the East Room of The White House to the Virginia Beach Oceanfront, John plays venues up and down the East Coast!
John's repertoire includes music from the last few decades so there is always something for everyone. His style brings an ambience that allows you to enjoy and guess the song being played or continue with your conversation. Songs by Sinatra, Dillon, Elvis, The Beetles, Fleetwood Mac, Sting, U2, Ed Sheeran, Zac Brown Band, Jimmy Buffet, Simon & Garfunkel and Shania Twain are just a few of the artists whose music you will hear this afternoon. We look forward to seeing you, and wining and dining and listening to the tunes of John Sweet!
Please be our guest and join us for an afternoon of great music, delectable brunch libations, and Chef's brunch selections! Summer never looked, sounded, or tasted so good! Please sign up early as there is very limited seating. Merci beaucoup, and see you there!
"SUMMER IS HERE" MUSICAL BRUNCH EXPERIENCE MENU
Corbeille de Pain
Assorted Breads, Chef Pascale's House-Made Croissant, Local Butter
Crémant d'Alsace, Crisp Rosé, Garden Bloody Mary
Chef Jacques' Garden Cucumber Vichyssoise, Crispy Garden Kale
Entreé (Choice of One):
Maine Lobster Organic Egg Omelette, Roasted Potatoes, Chef's Ratatouille, Lobster Cognac Sauce
-or-
Creekstone Farms Natural Filet Mignon Benedict, Two Poached Sauders Organic Eggs, Sauce Choron, Roasted Potatoes
Dessert:
Classic Crème Carmel
Locally Roasted Coffee, Selection of Harney & Sons Fine Teas
Event Price $90.00, excluding tax and gratuity, for a total of $115.00 per person.
Tickets non-refundable. We are happy to accommodate guests' dietary concerns, so all may join the festivities. Please email chezlauberge@aol.com or call 703-759-3800 with special requests