We will begin taking reservations Sunday, November 12th, 2023 at 10:00 am.
Please join us Sunday, December 24, 2023, for our very festive and always anticipated celebratory Christmas Eve Experience.  Our Grand Holiday 7 Course experience Celebration of Christmas Eve will feature delectable Beef Wellington,  Le gratin de Saint Jacques, and other Chef Jacques-curated Holiday Cuisine. 
Ranging in price from $142.00 to $157.00 per person, join us for a complete 7 Course experience on Christmas Eve like no other. L'Auberge Chez François will be in Holiday style with our award-winning décor  Be treated to outside and inside extraordinary, award-winning Holiday lighting, decorated trees, Holiday flowers, and three roaring fireplaces that will surely enhance your Grand Holiday Celebration Experience with L'Auberge Chez François and our team. 
SEATINGS:                                     
1st – 11:30 AM to 1:00 PM                   
2nd – 3:00 PM to 4:30 PM             
3rd – 6:00 PM to 8:00 PM              
All Christmas Eve Holiday reservations will kindly require a credit card to reserve due to high demand.  No-shows or cancellations of your reservation less than 48 hours in advance will be subject to a charge of $75.00 per person.
All credit card information will be processed securely.
Our 7 course Christmas Eve experience includes:
Corbeille de Pain (Bread Course)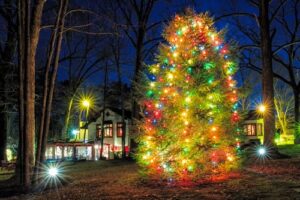 Amuse Bouche
Choice from a range of appetizers
La salade de l'Auberge
Our homemade sorbet
Choice from a selection of main courses
Choice from our dessert menu
Mignardise (Chocolate truffles)
CLICK HERE TO VIEW OUR GRAND HOLIDAY 7 COURSE CELEBRATION OF CHRISTMAS EVE EXPERIENCE
CLICK HERE TO VIEW CHRISTMAS CHILDREN'S MENU
Children's under 12 menu. $75.00 
Jacques' Brasserie will be open for 2 seatings on Christmas Eve, Serving a special Christmas Eve Menu!
Holiday seating hours:
1:30 pm-3:00 pm
5:00 pm-6:00 pm
CLICK HERE TO VIEW OUR BRASSERIE HOLIDAY MENU
CLICK HERE TO MAKE MAKE RESERVATIONS FOR JACQUES' BRASSERIE
CHRISTMAS DAY- CLOSED
Monday, December 25, 2023
L'Auberge Chez François and Jacques' Brasserie will be CLOSED. From our Family to yours, we wish you a Merry Christmas and Happy Holidays!

L'Auberge Chez François and Jacques' Brasserie will be open for Lunch and Dinner Tuesday, December 19, and Tuesday, December 26, 2023