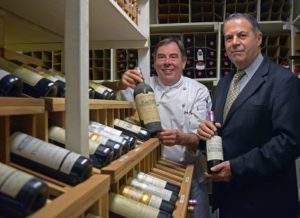 Find out more about Wine Dinners at L'Auberge Chez François on our Events Page.
Our sommeliers can assist you in choosing the perfect wine to go with your meal. They are also available to consult with you for your personal wine cellar collection.
Corkage Policy
We welcome our guests to bring a special bottle or two to enjoy with their meal. To make this possible, we charge a fee per standard bottle equivalent (750 ml), and limit corkage to four bottles or the equivalent (eg, two magnums or one three-liter bottle) per party.
Our corkage fee is fifty-five dollars per standard bottle at lunchtime and dinner in the main restaurant, forty-five dollars in Jacques' Brasserie. 
We would also like to request that guests avoid bringing bottles that are already on our list.