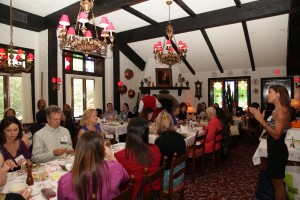 Chef Jacques Haeringer and his team of chefs, sommeliers, and servers offer you, your clients, and friends private dinner parties and corporate events. They will help you select a mouthwatering menu, award-winning wines, and just the right culinary entertainment to make your event truly special.
Chef Jacques offers lively cooking demonstrations for your private group with wine pairings guaranteed to entertain and instruct your discriminating clients with the finest food and libations. With his enthusiasm, talent and humorous presentation style, Chef Jacques will make your event truly unique and memorable.
On Monday nights, when we are normally closed, we offer private parties from 60 to 100 guests.
Tuesday, Wednesday and Thursday evenings, we have a private dining room available for groups of 25 – 50 guests, after 5:00 PM.
Please call Sara or Marc at 703-759-3800 or email us at chezlauberge@aol.com for more information.