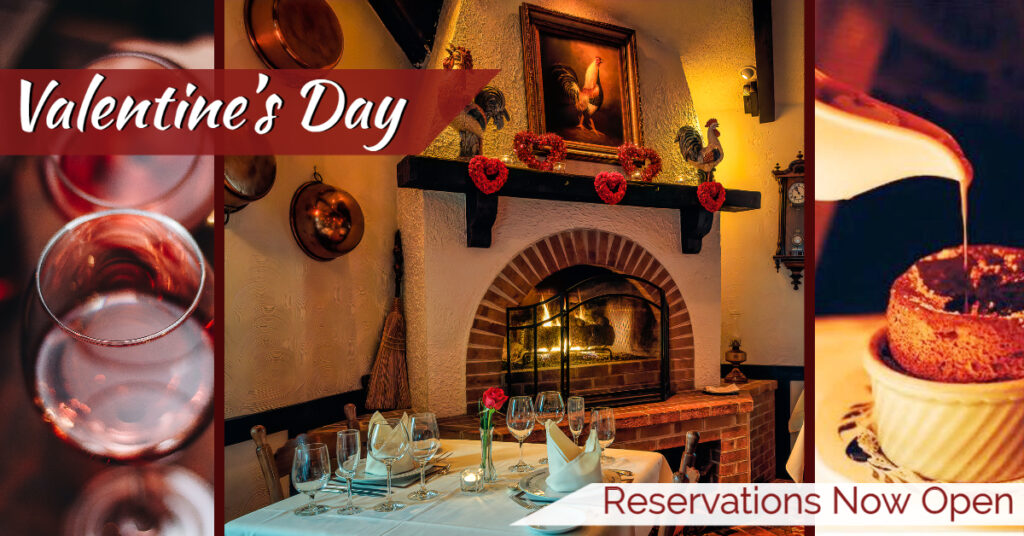 We will begin taking reservations Wednesday, January 4, 2023, at 10:00 am.
"Amour is in the Air" this 2023 for our very festive and highly anticipated Valentine's Day Culinary Celebration Experience.
L'Auberge Chez François, OpenTable's 100 Most Romantic Restaurants in America, and County Living and Good Housekeeping's most romantic restaurant in the state of Virginia, will feature Chef Jacques' and team's Valentine's Day 7 Course Musical Celebration Experience Menu, ranging in price from $150.00 to $170.00 per person, including favorites, Lobster Martini with Osetra Caviar, Classic Chateaubriand for two, delectable Beef Wellington, sumptuous Le Homard du Maine (Maine lobster, jumbo lump crabmeat) and other Chef Jacques curated and delicious Holiday Romance Cuisine from our award-winning kitchen. Don't forget the Champagne and delightful Romance-inspired libations! Jarrett Laskey, Romantic Guitar Extraordinaire will be strolling throughout our beautiful 5 dining rooms performing his romance guitar music. Jarrett, who regularly plays at our sold-out special events, also wins the title of top romantic guitar on the Knot, and Bride and Couples' Choice award on Wedding Wire for the last 10 years running.
Continue your romance at home with an optional bottle of chilled Cremant d'Alsace Rose, and half a pound of Chef Pascal's beautifully boxed delectable Chocolate Truffles infused with Grand Marnier. Ooh, la la!
Cheers to romance, delectable cuisine, wine, champagne, and enchanting strolling romantic music served in our beautiful dining rooms!
We hope to see you and your special someone this Valentine's Day at L'Auberge and Jacques' Brasserie.
SEATINGS:
1st – 11:30 AM to 1:00 PM
2nd – 3:00 PM to 4:30 PM
3rd – 6:00 PM to 8:00 PM
All Valentine's Day Holiday reservations will kindly require a credit card to reserve due to high demand. No-shows or cancellations of your reservation less than 48 hours in advance will be subject to a charge of $75.00 per person.
All credit card information will be processed securely.
Our 7 course Valentine's Day Musical Celebration Experience includes:
Cours de Pain (Bread Course)
Amuse Bouche
Choice from a range of appetizers
La salad de l'Auberge
Our homemade sorbet
Choice from a selection of
main courses
Choice from our dessert menu
Mignardise (Chocolate truffles)
CLICK HERE TO VIEW OUR VALENTINE'S DAY MUSICAL CELEBRATION MENU
CLICK HERE TO MAKE RESERVATIONS

JACQUES' BRASSERIE WILL BE OPEN ON VALENTINES DAY SERVING A SPECIAL À LA CARTE MENU RANGING IN PRICE PER PERSON FROM $14.95 TO $26.50 FOR APPETIZERS AND $57.95 TO $74.50 FOR ENTRÉES

SEATINGS:
1st – 11:30 AM to 1:00 PM
2nd – 3:00 PM to 4:30 PM
3rd – 6:00 PM to 8:00 PM
CLICK HERE TO VIEW VALENTINES DAY BRASSERIE MENU