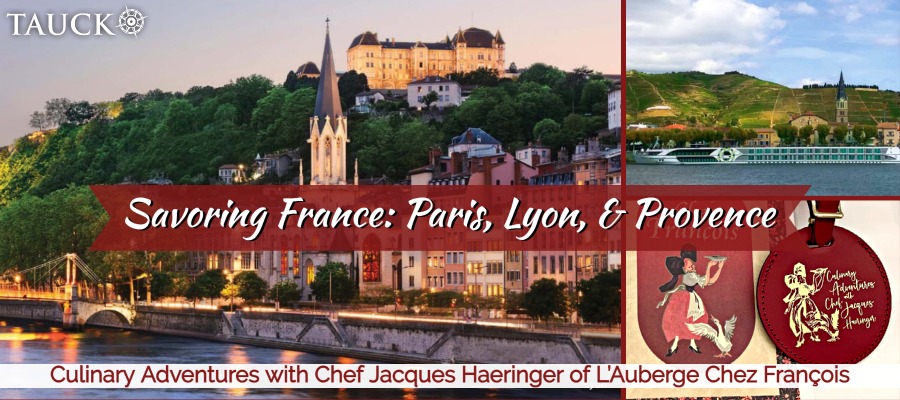 Savoring France: Exploring Paris, Lyon, & Provence with Chef Jacques Haeringer of L'Auberge Chez François
October 25th – November 3rd, 2023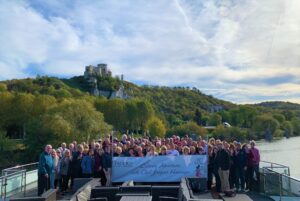 This fall, join us on our next spectacular international culinary adventure! We are beyond thrilled to invite you on yet another Tauck River Cruise of fine wine and cuisine with Chef Jacques Haeringer of L'Auberge Chez François and Jacques' Brasserie.
Our newest exciting nine-day river cruise, Savoring France: Paris, Lyon, & Provence, will commence on October 25th, 2023, in Paris, France. Starting in Lyon, venture along the Rhône River to several stops, including Viviers, Arles, Avignon, Roussilon, and Tain-l'Hermitage.
Savor a taste of aristocratic life from the Middle Ages through modern times with an exclusive reception and gala dinner in the 12th-century Duché d'Uzès.
Celebrate Parisian cuisine flair with dinner at Fouquet's brasserie on the Champs-Élysées (a celebrity favorite), and a private pastry class at the famed culinary school Le Cordon Bleu Paris. Come explore one of the world's greatest wine-producing areas with Tauck, delighting in private wine tastings along the Rhône, the Beaujolais and Châteauneuf-du-Pape regions. Regional cuisine plays an important role along the Rhône – attend a culinary demonstration and tasting at a cooking school in Valence, a Provençal lunch in la Camargue, a visit to one of the world's most famous food markets, and an opportunity to visit a truffle farm with a tasting. The adventures are endless!
Does life get any better than this? And mais oui, but of course, Chef Jacques will be your provider of culinary merriment for the week abroad, hosting special dinners and cooking demonstrations while sharing information of local cuisine, culture, and the delectable wines of France with his winemaker friends.
Don't miss out on this once-in-a-lifetime experience! Please call 1-800-241-1365 and speak to our friends at Tauck, Michele and Susette, for more information.
See you on the Rhône!
Please call 1-800-241-1365 and speak to our friends at Tauck, Michele and Susette for more information.