Virginia's Award-Winning Linden Vineyards Wine Dinner Experience Featuring Jim Law, Proprietor Linden Vineyards


January 26, 2023




6:00 pm - 8:00 pm
Please join us Thursday, January 26th, as Chef Jacques and Team proudly welcome's legendary winegrower Jim Law of Linden Vineyards to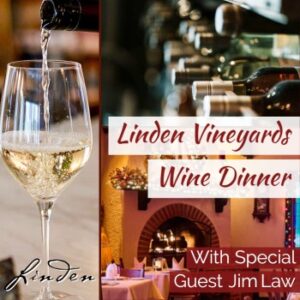 L'Auberge Chez François. Law founded Linden Vineyards on 76 acres of long-abandoned apple orchard in the Blue Ridge Mountains about 70 miles southwest of Washington D.C., in 1983 after several years of looking for vineyard land with high elevations and east facing slopes. This was the first modern winery in North Virginia, an ever since Law has pioneered growing fine European grape varieties in Virginia's challenging conditions, while mentoring a number of winegrowers who went on to found properties like RdV, Glen Manor and Delaplane. He has continued researching and tweaking his methods, leading to improvements not only in the quality of his own wines, but Virginia wine more generally.
Still, Law says he isn't done innovating. "The great joy of my life has been experimenting and trying to discover what this new terroir is truly capable of," he says.
Savor the best of the Commonwealth tonight with Chef Jacques' award winning cuisine and the delectable wines of Jim Law and Linden Vineyards. Merci Beaucoup et Bon Appétit!
LINDEN VINEYARDS WINE DINNER MENU
Chef Jacques' Seasonal Canapes
Linden Sauvignon Blanc Avenius 2020
Corbeille de Pain (Bread Basket)
Harvest Multigrain, Sourdough Rolls, Local Butter
Gratin of Chincoteague Virginia Scallops, Osetra Caviar
Linden Chardonnay Hardscrabble 2019
Claret Braised Creekstone Farms Natural Short Ribs
Linden Claret 2019
Herb Crusted Roasted Lamb Chop, Root Vegetable Medley, Thyme Sauce
Linden Hardscrabble Red 2017
Chef Pascal's Gâteau Forêt Noire (Black Forest Cake)
Linden Petit Manseng Late Harvest 2017
Julius Meinl Roasted Coffee, Selection of Harney & Sons Fine Teas
Event Price: $175.00 (excludes tax and gratuity); for a total of $224.00 per person.
We are happy to accommodate guests' dietary concerns so all may join the festivities. Please email chezlauberge@aol.com with special requests. Patrons will have an opportunity to purchase these wines at a VERY special price this evening.
We're sorry, but all tickets sales have ended because the event is expired.