Wines of Rioja Spain, "Viña Otano" Wine Dinner Experience Featuring Ervigio Adan, Export Manager Viña Otano / Premium Fincas & VERY Special Guest Robert Parker's Wine "Personality of the Year" Aurelio Cabestrero, Proprietor, Grapes of Spain


October 6, 2022




6:00 pm - 9:00 pm
La Grande Tente Garden Terrace
Viña Otano comes from a family winery, whose beginnings go back to 1886 when "Grandfather Don Román Montaña" began to engage in the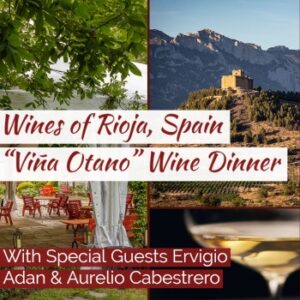 production and aging of wines, becoming the founder of a series of master craftsmen in wines. The current generation of grandchildren continue this work with great success. The winery is located in Fuenmayor – La Rioja, in the sub-zone of Rioja Alta, a town which is historically known for the high quality and capacity of its wine to age extremely well.
Ervigio Adan, MBA in Viticulture, Oenology and Wine Marketing with 21 years of experience in the Spanish wine business, participated in the creation and development of Bodegas Altanza (DOCa Rioja), of which he is still a shareholder, He is the current Export Director of Premium Fincas (including Viña Otano, Rioja), Jury in international competitions for the fourth consecutive year, and Director of the largest wine competition in South America (Expovinos, Colombia).
Joining Ervigio this evening will be a very special guest, Aurelio Cabestrero, originally from Madrid, Spain. Named one of Robert Parker's "Wine Personalities of the Year," Aurelio Cabestrero is a "serious importer of high-quality Spanish wine who will gain ever increasing recognition. There is no question he has a brilliant palate as well as a knack for finding tiny, unheralded estates that are producing high quality wine." Aurelio worked at Madrid's Cafe de Oriente Restaurant for three years before coming to the U.S. to work as the sommelier for Taberna del Alabardero in Washington D.C. He worked at Taberna del Alabardero for three years and also worked as Sommelier at Marcel's in Washington D.C. before pursuing his passion to import wines from his native country, Spain.
Aurelio has received numerous awards for his achievements, including the Ruinart 1993 prize as the Best Sommelier in Spain, Best Young Sommelier in 1994 by Wine and Gastronomic Magazine, and second place at the National Sopexa Competition of French Wines and Spirits in 1994. He is also founding member of Madrid Association of Sommeliers.
Chef Jacques has fashioned a tasting menu to best elicit the qualities of these delectable wines with our very special Spanish guests. Tonight's experience will be served on our beautiful terrace in our 40 x 55 foot tent overlooking our two on-site vegetable gardens and beautiful grounds. See you there! Vive la France et Vive l'Espagne!
Wines of Rioja Spain, "Vina Otano" Wine Dinner Degustation
Seasonal Chef Jacques' Canapes
Viña Otano, Rioja Viura 2020
Corbeille de Pain (Bread Basket)
Multigrain Rolls & Sourdough Bread, Local Butter

Wild Mushroom "Vol au Vent"
Wild Mixed Mushrooms, Puff Pastry, Herbed Crème Sauce
Viña Otano, Rioja Rosado 2021
Seafood Paella
Carolina Shrimp, Mussels, Scallops, Murray's Organic Chicken, Saffron Broth
Viña Otano, Rioja Gran Reserva Blanco 2015
Catalonia Slow Braised Creekstone Farms Natural Beef with Spanish Chorizo, Spanish Olives, Yukón Gold Potatoes
Viño Otano, Rioja Gran Reserva 2014
Viña Otano, Rioja Graciano 2009
Classic Creme Caramel
Julius Meinl Roasted Coffee, Selection of Harney & Sons Fine Teas
Event Price: $150.00 excluding tax and gratuity, for a total of $192.00 per person.
We are happy to accommodate guests' dietary concerns so all may join the festivities. Please email chezlauberge@aol.com or call 703-759-3800 with special requests. Patrons will have an opportunity to purchase these wines at a special price. Tickets non-refundable.