Holiday Sparkling Champagne Celebration Dinner Experience Featuring the Champagnes of Maison Laurent Perrier


December 15, 2023




6:00 pm
Garden Room
Celebrate the holidays in style with A Very Special Sparkling Champagne Celebration Dinner Experience on Friday, December 15th at 6pm featuring the incomparable Maison Laurent Perrier Champagne. Chef and team has prepared a very festive holiday feast featuring delectable Nantucket Bay Scallops, Osetra Caviar, Chef's Classic Lobster Thermidor, French Chocolate, and yes please, more bubbly, oui – bien sur!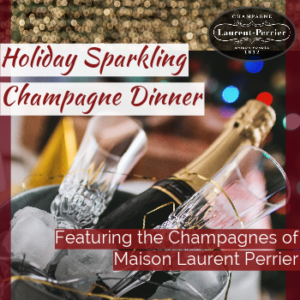 Laurent Perrier is one of the finest names in Champagne. The house was created in 1812 by Alphonse Pierlot and sold to the Nonancourt family in 1939. It has since become one of the most famous of the Grandes Marques Champagnes and is also the region's largest family-owned house. The Laurent Perrier "Grand Siecle" Iteration 26 tete de cuvee was James Suckling's #1 Wine of 2023 and is a 100 POINT WINE. Joining us tonight, will be Abbey Fox, French Wine Specialist, Winebow Company.
According to L'Auberge Chez François tradition, we will offer these featured wines for purchase, at a special price for you to enjoy at home, with family and friends, or at your holiday parties.
Eat, drink and be merry this season at L'Auberge Chez François. In our traditional spirit, all of our spectacular holiday decorations will be in place and be ready to complement this festive and bubbly feast!
Bonnes Fêtes, Season's Greetings, and Happy Holidays!
A Holiday Festive Sparkling Champagne Celebration Experience Menu
Seasonal Festive Canapes
Laurent Perrier "La Cuvee" Brut, NV
Corbeille de Pain (Bread Basket)
Multi Grain & Sourdough Breads, Local Butter
Appetizer
Champagne-Poached Nantucket Bay Scallops, Roasted Shitake Mushrooms, Champagne Sauce, Smoked Trout Caviar
Laurent Perrier « Ultra Brut » Brut Nature, NV
L'Auberge Chez Francois' Holiday Salad with Beets, Crudités, Champagne Vinaigrette
Blood Orange Sorbet with a Spritz of Champagne
Entrée
Classic Maine Lobster Thermidor Maine Lobster, Crème Cognac Sauce, Cheese Medley, Purée Rose Root Vegetable
Laurent Perrier Cuvee Rose, NV
Dessert
Papa Francois' Holiday "Bûche De Noël " Mocha Yule Log, Genoise Cake, Mocha Buttercream Filling and Fronting, Valrhona Chocolaté Sauce
Laurent Perrier "Harmony" Demi-Sec, NV
Julius Meinl Coffee, A Selection of Harney & Sons Fine Teas Coffee
Event Price -$240.00 per person, excluding tax and gratuity; for a total of $307.00 per person.
Tickets are non-refundable. Please remember to sign up early, as seating is limited. We are happy to accommodate guests' dietary concerns, so all may join the festivities
Patrons will have an opportunity to purchase these top-rated wines at very special holiday pricing for your home celebrations and also make for wonderful holiday memories and gifts.
Please call to be added to our waitlist, if event is sold out.
.