"A Yuletide Holiday" Four-Course Brunch Experience Featuring the Holiday Music of Prince Havely


December 17, 2023




11:00 am
Please join us at L'Auberge Chez François on Sunday, December 17th at 11:00am for a delectable Yuletide Holiday Musical Brunch featuring one our most beloved and talented entertainer, Prince Havely!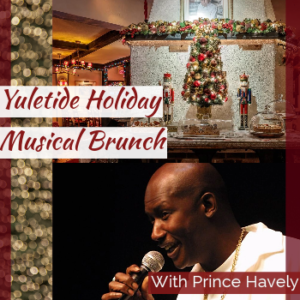 Dine on house-made buttery croissants, brunch cocktails, and a selection of Chef Jacques' very special holiday favorites (Champagne, Lobster, Caviar, Foie Gras, Filet Mignon, Chocolate, oh my) while listening to the seasonal sounds provided by Prince. You'll be sure to get into the holiday spirit in front of the fireplace surrounded by our sparkling lights and decorations humming and singing to all your favorited holiday songs. Guests will share spacious long communal tables for this very special always sold-out event. We hope to toast this holiday season with you and yours!
YULETIDE HOLIDAY MUSICAL FOUR COURSE BRUNCH EXPERIENCE MENU
BRUNCH COCKTAILS
Mosbach Crémant d'Alsace Brut, Hot Mulled Spiced Wine, Virginia Apple Cider Mimosas, Papa's Pilsner
Corbeille de Pain (Bread Basket)
Chef Pascal's Famous Croissants, Multi Grain & Sourdough Breads, Local Butter
APPETIZER
Maine Lobster Martini, Lemon and Lime Juice, Sour Crème, Osetra Caviar
ENTRÉE (Choice of One)
"Rossini" Filet Mignon Benedict, Foie Gras Mousse, Poached Organic Eggs, Truffle Sauce, Roasted Potatoes, Garden Vegetables
– or –
Maine Lobster and Osetra Caviar Omelet, Roasted Potatoes, Garden Vegetables
DESSERT
Champagne Valrhona Chocolaté Mousse
Julius Meinl Coffee, A Selection of Harney & Sons Fine Teas
Event Price: $99.00 per person;
Excluding Tax & Gratuity for a total of $126.00 per person
Tickets are non-refundable. We are happy to accommodate guests' dietary concerns, so all may join the festivities.
Please email chezlauberge@aol.com or call 703-759-3800 with special requests.
Please call to be added to our waitlist if event is sold out.