A Prince Havely Four-Course Musical Brunch Experience Featuring the Great American Songbook Music


March 26, 2023




11:00 am - 1:00 pm
Join us Sunday, March 26th, at 11:00am for a Sunday musical brunch not to be missed! Reminisce and enjoy some of the most celebrated entertainers of our time with the music of The Crooners, performed by the one and only multi-talented Prince Havely.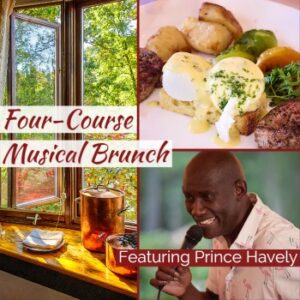 One of the most recognized vocal talents in the region, always sold-out Prince will bring a level of elegance and style to our musical brunch and his vast repertoire and charm appeals to guests of all ages. Relish the tunes originated by the velvety voices of singers like Frank Sinatra, Nat King Cole, Tony Bennett and many other pop standards from the Great American Songbook that will surely will leave you humming and tapping your feet through our delectable Sunday cuisine and brunch cocktails.
Our Musical Brunch will be held in our beautiful Rooster Room, with generous spacing and a warm Alsatian ambiance. With several previously sold-out performances, early registration is highly suggested. Merci beaucoup and see you there!
Crooners Brunch Experience Menu
Corbielle de Pain, (Bread Basket)
Chef Pascal's Housemade Croissant, Multi-Grain, Sourdough, Local Butter
Bloody Marys, Mimosas, Papa's Pilsner, Crémant d'Alsace
Appetizer
Chef Jacques' Lobster Bisque
Entrée (Choice of One)
Creekstone Farms Natural Sirloin Benedict, Two Poached Sauders Organic Eggs, Béarnaise Sauce
–or–
Smoked Norwegian Salmon and Osetra Caviar Three Sauder Organic Eggs Omelette
Dessert
Papa Haeringer's Petits Pots de Crème au Chocolat
Julius Meinl Roasted Coffee, Selection of Harney & Sons Fine Teas
Event Price: $98.00 (Excluding tax and gratuity), for a total of $125.00 per person.
We are happy to accommodate guests' dietary concerns, so all may join the festivities. Please email chezlauberge@aol.com or call 703-759-3800 with special requests, or to join our waitlist. Tickets non-refundable.