L'Auberge Chez Franҫois "Goes Italian" Six-Course Sommelier Wine Tasting & Dinner Experience Featuring Jeff Dixon, Sr. Business Development Manager – Lux Wines Capital Division


April 13, 2023




6:00 pm - 9:00 pm
Chef Jacques asks, "Do they make wine in Italy?" Indeed they do, and some of the finest in the world, too (at least outside of France)! Please join us Thursday, April 13th, at 6:00pm for a delectable tasting and scrumptious dinner experience featuring wines from Italy's most celebrated wine regions, Tuscany and the Piedmont.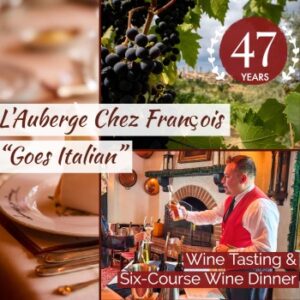 We will be introduced to Maze Row Wine Merchant, the US importer and exporter of fine wines. They represent a curated collection from world class artisan producers who share our vision for crafting wines that epitomize terroir. They have been making wine for generations with uncompromising devotion to their craft, and we seek to foster their work and share their stories.
Join Chef Jacques Haeringer and Jeff Dixon, Certified Wine Educator, as we explore Italian wine through a French culinary lens.
Featuring selections from:
ALLEGRINI: A benchmark producer of structured and elegant Amarone, as well as a leader in Valpolicella for terroir-driven IGT wines.
BRANCAIA: With organic practices and principled winemaking, winemaker Barbara Widmer is crafting some of Tuscany's boldest wines.
JERMANN: One of Italy's touchstone producers, Jermann makes wines of precision and polish in the region of Friuli.
PIEROPAN: Pieropan ranks among Italy's greatest producers of white wines, bottling definitive expressions of Soave Classico.
RATTI: Winemaker Pietro Ratti makes elegant wines from high-elevation vineyards in La Morra, combining depth with distinct elegance.
TORNATORE: With premier vineyards on Mount Etna's Northern slopes, Tornatore makes wines of grace and depth from native varieties.
Chef Jacques and team will offer a feast evoking the most beautiful regions in Europe (once again, outside of France, but of course).
Always good fun between the French and Italians as L'Auberge Chez Franҫois "Goes Italian!"
We hope to see you there! Please sign up early, as seating is limited.
SOMMELIER WINE TASTING
Seasonal Hors d'Oeuvres
Greeter Italian Wine: 2021 Pieropan Soave
Fine Italian Wine Flight:
2019 Ratti Barolo Marcenasco
2019 Brancaia Ilatraia
2018 Allegrini Amarone de Valpolicella
SIX-COURSE DINNER MENU
Corbeille de Pain (Bread basket)
Harvest Multigrain & Sourdough Rolls, Local Butter
Second Course
Poached Artic Char, Angel Hair Pasta, Saffron and Tomato Coulis
2022 Jermann Pinot Grigio
Third Course
Chef's Garden Salad, House made Vinaigrette
Fourth Course
Seasonal Sorbet
Main Fifth Course
Marcho Farms Classic Veal Chop with Garlic Flan, Braised Garden Kale
2019 Tornatore Etna Rosso
Dessert Sixth Course
Chef Pascal's Classic Tiramisu
Julius Meinl Coffee Service, Selection of Harney & Sons Fine Teas
Event Price: $175.00 (per person, excluding tax and gratuity); for a total of $224.00 per person.
Tickets non-refundable. Patrons will be able to purchase this evening's wines at a very special price. We are happy to accommodate guests' dietary concerns. Please email chezlauberge@aol.com or call 703-759-3800 with special requests. Patrons will have an opportunity to purchase these wines at a special price. If sold out, please ask to join our wait list.