"A Tale of Two Rivers" Blind Wine Tasting and Small Plate Experience


June 22, 2023




6:00 pm - 8:00 pm
Join us on Thursday, June 22nd at 6:00pm for "A Tale of Two Rivers" Blind Wine Tasting and Small Plate Experience!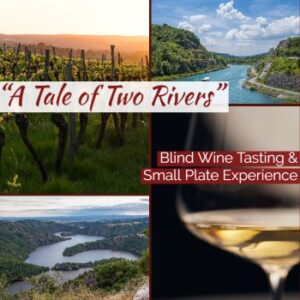 The two most important rivers in France, viticulturally speaking, are the Loire and the Rhône, and they have very little in common! Different climates, different soils, different grape varieties, different traditions, they are a study in contrasts.
Please join us and Fran Kysela, MS as we compare the two riverine regions through a series of blind tastings. Each tasting will consist of one wine from each River region, accompanied by a dish specially designed by Chef Jacques to complement them both.
We will assess the wines: which one do you like better, and why? Which one pairs better with the food? Discuss them with your friends and table-mates, and at the end of each course we will reveal the two wines and Fran Kysela, founder of importer and distributor Kysela Père et Fils, say a few words about where they come from and why they taste the way they do. A more engaging wine-tasting experience is hard to imagine!
Our evening begins a reception in our Grande Tente, with a sparkling Vouvray Brut from the Loire and Chef Jacques' seasonal canapés. Then sit down with us to enjoy a lovely June evening tasting three pairs of wines from the Loire and the Rhône, white, rosé and red, along with Chef Jacques' culinary creations.
You, our esteemed judges this evening, will declare the winner! Reserve soon for a wine-tasting experience unlike any other!
Blind Wine Tasting and Small Plate Experience Menu
Reception
Seasonal Canapes
Sparkling Vouvray Brut
Cours de Pain
Harvest Multigrain, Sourdough Rolls, Local Butter
First Tasting Flight
Loire White vs Rhone White
Alaskan Halibut, Fennel Fondue
Second Tasting Flight
Loire Rose vs Rhône Rosé
Grilled Norwegian Salmon, Served Chilled, Garden Herb Remoulade Sauce
Third Tasting Flight
Loire Red vs Rhône Red
Black Olive Tapenade-Crusted Creekstone Farms Filet Mignon
Dessert Course
Chef Pascal's Raspberry Mousse Gateau
Julius Meinl Coffee, Selection of Harney and Sons Fine Teas
Event Price: $150.00 (excluding tax and gratuity), for a total of $192.00 per person.
Tickets non-refundable. We are happy to adjust the menu to accommodate guests' dietary restrictions. Email chezlauberge@aol.com or call 703-759-3800. All wines will be available for purchase at a special price for our customers this evening.