"L'eté est Arrivé!" Summer Has Arrived Musical Brunch Experience Featuring the Music of John Sweet


June 25, 2023




11:00 am - 1:00 pm
Back by popular demand, we welcome John Sweet to our kick off "L'eté est Arrivé!" Summer Has Arrived Musical Brunch on Sunday, June 25th at 11am.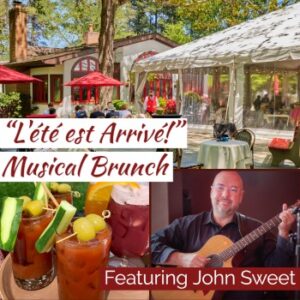 John, local guitarist and customer favorite arranges and performs popular music from the last several decades on acoustic guitar. From Elvis, Sinatra, and the Beatles to romance, folk, pop, country, and show tunes, John is sure to please most musical palates. Instead of singing, John lets the guitar carry the melody providing a pleasant background ambience suitable for fine dining and good conversation.
Chef Jacques and team have prepared a delightful brunch menu, brunch libations and Chef Pascal's irresistible croissants and chocolate and raspberry mousse.
Please come and enjoy our Summer is here Musical Brunch with us!
MUSICAL BRUNCH MENU
Brunch Libations
Bloody Marys, Mimosas, Papa's Pilsner, Crémant d'Alsace
Corbeille de Pain, (Bread Basket)
Chef Pascal's Housemade Croissant, Multi-Grain, Sourdough, Local Butter
Appetizer
Chef Jacques' Lobster Bisque
Entrée (Choice of One)
Creekstone Farms Natural Sirloin Benedict, Two Poached Sauders Organic Eggs, Béarnaise Sauce
–or–
Smoked Norwegian Salmon and Osetra Caviar Three Sauder Organic Eggs Omelet
Dessert
Chef Pascal's Chocolate and Raspberry Mousse Cake
Julius Meinl Roasted Coffee, Selection of Harney & Sons Fine Teas
Event Price: $98.00 (Excluding tax and gratuity), for a total of $125.00 per person.
We are happy to accommodate guests' dietary concerns, so all may join the festivities. Please email chezlauberge@aol.com or call 703-759-3800 with special requests, or to join our waitlist. Tickets non-refundable.