A Late August Four-Course Musical Garden Brunch Experience featuring the Music of Jarrett Laskey


August 28, 2022




11:00 am - 1:00 pm
La Grande Tente Terrace
Dine on our beautiful terrace on Sunday, August 28th at 11:00am for A Late August Musical Brunch featuring the beautiful music of guitarist Jarrett Laskey. Back by popular demand, Jarrett is a classically trained professional musician performing a varied repertoire of Spanish/ Latin guitar music, and many arrangements of modern and contemporary artists. Jarrett is in high demand and his guitar music has created the perfect ambience in hundreds of various events of the past decades of the great D.C. area, including the entire East Coast for wedding ceremonies, receptions, cocktail hours, and of course, brunch.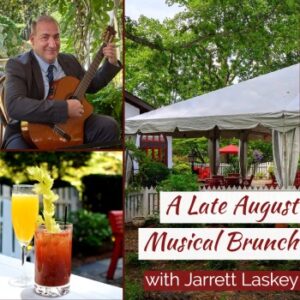 Jarrett is often named the most requested guitarist in the Washington D.C. area on Wedding Wire and The Knot. Our Musical Brunch will experience will be offered on our covered garden terrace, under our 40ft x 55ft Grande Tente. Complete with six cooling fans, café bistro lighting, and pastoral views of our six acres, two on-site gardens, koi pond, blooming flowers, it will be the perfect setting for you to relax and enjoy a fabulous Sunday brunch!
Chef Jacques has created a very special Sunday brunch menu for the day, including garden-based ingredients and, bien sûr, sparkling Cremant d'Alsace, Mimosas, our house-made Garden Bloody Mary's, and Papa's Pilsner. Why not spend your Sunday with us? Summer never looked, sounded or tasted so good!
MUSICAL BRUNCH MENU

Corbeille de Pain
Assorted Breads, Chef Pascale's House-Made Croissant, Local Butter
Crémant d'Alsace, Crisp Rosé, Garden Bloody Mary
APPETIZER:
Chef Jacques' Garden Gazpacho
ENTREE (Choice of One)
Carolina Shrimp, Apple and Potato Pancake Benedict with Two Organic Eggs, Hollandaise Sauce
– or –
Creekstone Farms Sliced Sirloin, Two Organic Eggs, Béarnaise Sauce, Roasted Potatoes, Garden Vegetables
DESSERT
La Tulipe au Sirop d'érable Maple Tulip Shell with Medley of Housemade Ice Cream and Sorbet
Julius Meinl Roasted Coffee & Assortment of Harney's Fine Teas
Event Price: $90.00 (excluding taxes and gratuity); for a total of $115.00 per person.
We are happy to accommodate guests' dietary concerns so all may join the festivities. Please email chezlauberge@aol.com with special requests. Tickets non-refundable.