Chef Jacques' Table Six-Course Wine Tasting & Dinner Experience Featuring the Delectable Wines of Tablas Creek Vineyard With Special Guest Daniel Haas, Celebrating the 68th Anniversary of the Founding of Chez Francois


September 15, 2022




6:00 pm - 9:00 pm
Grande Tente Garden Terrace
Please join us as we welcome Daniel Haas to L'Auberge Chez François to once again celebrate the wines of Tablas Creek Vineyard in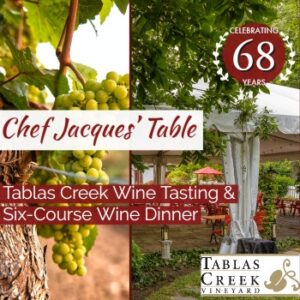 Paso Robles. Daniel is the son of founder and renowned importer Robert Haas, and we are thrilled to have him with us to discuss the wines and Tablas' vision. Founded in 1989 as a partnership between the Perrin family of Château de Beaucastel and the Haas family of importer Vineyard Brands, Tablas Creek has been at the center of the Rhône movement in California, bringing in and propagating high quality cuttings of the many different varieties grown at Beaucastel. Not only has this broadened the range of wine styles that can be produced in California and the US, it gives growers access to grape varieties from the south of France that should perform well in a changing climate.
Recently Tablas has also become a pioneer in sustainability, as the first winery anywhere to achieve Regenerative Organic Certification, applying a range of science-based, holistic practices that sequester carbon in the soil while increasing the health and diversity of the soil microbiome. This in turn increases the health of the vines and the resilience of the vineyard to pressure from bad weather, disease, or pests.  Tablas has a robust virtual presence, with a celebrated blog, live podcasts and interviews, all of which are entertaining and enlightening on wine-related topics. Check them out!
We are very excited to feature the Rhône-inspired wines of Tablas Creek tonight. Chef Jacques and team have designed a menu to highlight the complexity and beauty of these wines. You won't want to miss this very special 68th anniversary wine dinner experience with Tablas Creek and Daniel Haas, served on our beautiful terrace in our 40 x 55 foot tent overlooking our two on site vegetable gardens and beautiful grounds. See you there!
Chef Jacques' Seasonal Canapés
Patelin de Tablas Rosé 2021
Pre-dinner wine tasting flight:
– Esprit de Tablas Blanc 2018
– Esprit de Tablas Rouge 2018

Tablas Creek 68th Anniversary Menu Dégustation
Corbeille de Pain (Bread Basket)
Harvest Multigrain, Sourdough Rolls, Local Butter
Maine Halibut, Fennel Fondue, Anise Beurre Blanc
Patelin de Tablas Blanc 2019
La salad de l'Auberge – Organic Mesclun Salad, Garden Crudités, Vinaigrette Maison
Seasonal Sorbet
Roasted Lamb Chop Provençal, Natural Jus, Pommes de Terre à la Lyonnaise, Chef's Garden Vegetables
Côtes de Tablas Rouge 2019– Esprit de Tablas Rouge 2014
Parisian Apple Tart
Vin De Paille 2018
Julius Meinl Roasted Coffee, Selection of Harney & Sons Fine Teas
Event Price: $175.00, excluding taxes and gratuities; for a total of $224.00 per person.
Tickets are non-refundable. To register, purchase tickets below or call us at (703) 759-3800. We are happy to accommodate dietary reactions so all may join in on our culinary experiences. Please email chezlauberge@aol.com or call 703-759-3800 with special requests and to join our wait list. Patrons will have an opportunity to purchase these wines at a VERY special price this evening.