9/24 - "Entre deux Jardins" (Between Two Gardens)


September 24, 2023




4:00 pm - 7:00 pm
You are cordially invited to a very special experience on Sunday, September 24th at 4:00pm, where fine cuisine, exquisite wines, and a passion for fresh ingredients converge. We invite you to an unforgettable garden-to-table experience in Great Falls: "Entre deux Jardins" Between Two Gardens (quite literally!).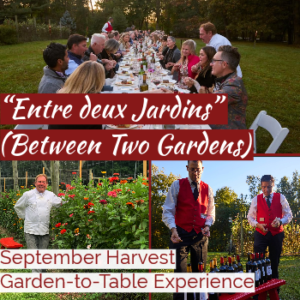 We will serve up a perfect culinary evening and bonus setting for you as we're thrilled to share the news, we were just named again as one of OpenTable's 100 Most Popular Restaurants in America for Outdoor Dining for 2023!
Begin your evening with a reception on La Petite Terrace with Chef Jacques Garden Inspired Canapes. Sip on our Mixologist Jose's signature garden cocktail featuring the freshest ingredients, from our garden mais oui, but of course.
Then, enjoy a tour of vegetable, herb and flower gardens, with a garden cocktail or bubbly in hand, led by our Gardner and Chef Jacques Haeringer.
Your beautiful dining table, complete with our garden flowers will be situated in the field between the lush gardens for our ultimate culinary and garden experience presented to you and yours.
Savor a special locally-sourced, truly garden-to-table meal, presented by Chef Jacques Haeringer, our Gardner's & Team. Indulge in a signature Virginia dessert by Pastry Chef Pascal. Lucious Wine pairings from award-winning Wolffer Estate Winers will be presented by Abbey Fox, Winebow Certified Sommelier, Court of Masters Sommeliers
Truly a Garden to your plate experience not to be missed, indeed! Merci beaucoup and see you there, a one of kind experience on the 6-acre grounds of Chez Francois!
(In event of weather, the "Entre deux Jardins" will be held in our covered "Le Grande Tent Terrace, seating limited to only 60 guests)
Entre deux Jardin Réception La Petite Terrace
Chef Jacques' Seasonal Garden Inspired Canapes
Signature Garden Cocktail by Mixologist Jose, Cremant d'Alsace
Chef Jacques' Garden Tours
Chef Jacques and Team's Menu Degustation
Entre deux Jardin "Between the Gardens"
Corbeille de Pain (Bread Basket) Multi Grain & Sourdough Breads, Local Butter
Chilled Coquille of Seafood Shrimp, Crabmeat, Lobster, Scallops, Salmon Garden Herb Remoulade Sauce
2020 Wolffer Estate Perle Chardonnay, Long Island
Chef Jacques' Grand Organic Garden Chef Salad
Organic French Filet Bean, Kale, Assorted Lettuces, Cabbages, Vinaigrette Maison
Black Olive Tapenade-Crusted Creekstone Farms Natural Filet Mignon Chef's Garden Ratatouille, Red Wine Shallot Reduction
2022 Wolffer Summer in a Bottle Rose, Provence
A Fall Favorite Pastry Chef Pascal's Honey Glazed Virginia Apple Tart
Julius Meinl Coffee, Selection of Harney and Sons Fine Teas
Event Price: $215 00 per person (excludes tax and gratuity) for a total of $275.00
Tickets are non-refundable. We are happy to adjust the menu to accommodate guests' dietary restrictions. Should you have alternative requests, please email chezlauberge@aol.com or call 703-759-3800
All wines featured at this event will be available for purchase at a very special price this day only.