A Decadent Valentine's Taittinger Champagne & Caviar Celebration Dinner Experience


February 10, 2022




6:00 pm - 9:00 pm
Rooster Room, Very Limited Exclusive Seating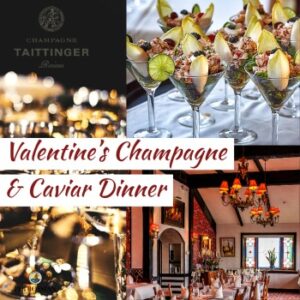 Roses smell fine,
Candy tastes sweet;
But a romantic repast
Is a much better treat!
Romantic celebrations are a tradition at L'Auberge Chez François, you might even say that they are our "raison d'etre." Our philosophy is that life's memorable moments are not complete without a festive meal and, mais oui, but of course, Champagne!
We are honored and thrilled to present to you and your special someone a "one of a kind" Valentine's evening Experience not to be missed. Enjoy an intimate dinner with Chef Jacques along with co-host Jeffrey Dixon, State Manager, Kobrand Fine Wines. Internationally renowned as one of the greatest established names in the Champagne region, Taittinger was founded in 1734 by visionary Jacques Fourneaux. Producing around 400,000 cases annually, this exquisite empire produces prestigious champagne matched only by its rarity. Fondly known as the connoisseurs' choice of champagne, Taittinger's excellence has remained a constant through the centuries.
With caviar, champagne, why yes, and Chef's multi-course luscious Valentine's Degustation Multi Course Menu, and we've assembled all the ingredients for a wonderful and memorable experience for you at L'Auberge Chez Francois, Open Tables Top 100 Restaurants in America for Romance! All Taittinger delectable champagnes will be available to purchase at very special pricing this festive evening.
Taittinger Champagne & Caviar Celebration 6 Course Dinner Experience Menu
Chef Jacques' Seasonal Canapes
Taittinger Brut La Francaise Champagne Cocktail
Corbeille à Pain (Bread Basket)
Multi Grain & Sourdough Breads, Local Butter
Third Course: Maine Lobster Martini with Osetra Caviar, Crème Fraîche
Taittinger, Brut La Francaise – Traditionally elegant and floral, La Francaise is made with a higher proportion of Chardonnay, giving it crisp citrus and white flower notes; A classic Champagne worthy of its place in the pantheon of great sparklers.
Fourth Course: Gratin of Maine Diver Scallops, Shitake Mushrooms, Truffled Taittinger Champagne Sauce
Taittinger, Cuvée Prestige Rosé – This elegant and racy cuvée is crafted with superb Chardonnay and Pinot Noir fruit harvested from Montagne de Reims and Les Riceys. After a second fermentation in the bottle, the wine spends three years on the lees in the bottle to develop complexity and bouquet. 92 points, Wine Spectator; 90 points, Wine Advocate
Fifth Course: Poached Arctic Char in an Aromatic Broth, Smoked Salmon Caviar, Beurre Blanc Sauce, Roasted Beet Puree
Taittinger, Prélude "Grand Crus" – Produced exclusively from Grand Cru vineyards, this champagne is aged for five years on the lees, as opposed to the required minimum of one, to develop body and bouquet. 94 points, Wine Enthusiast; 92 Points Wine Spectator; 90 points Wine Advocate
Sixth Course: Raspberry and  Chocolate Celebration Mousse
Taittinger, Nocturne Sec – Like its rosé counterpart, this wine is soft and fruity. With attractive apple fruits and bright lemon to give freshness, it's a rounded wine that has perfumed white fruits and a ripe, always fresh aftertaste
Julius Meinl Coffee, Harney & Sons Fine Teas
Event Price: $210.00 (excluding tax and gratuity), for a total of $270.00 per person.
Please remember to sign up early, as seating is very limited. Please call for more information or if event is sold out, please call to be added to our wait list . Tickets non-refundable. We are happy to accommodate guests' dietary concerns so all may join the festivities. Please email chezlauberge@aol.com or call 703-759-3800 with special requests. All Taittinger Champagnes served this evening are available for purchase for a very special pricing.
We're sorry, but all tickets sales have ended because the event is expired.