A Delightful Fall Musical Brunch Experience Featuring the Music of John Sweet


October 24, 2021




11:00 am - 1:00 pm
La Grande Tent Terrace – Very Limited Exclusive Seating
Please join us for our ever popular musical brunch series at L'Auberge Chez François, with a Delightful Fall Musical Brunch Experience on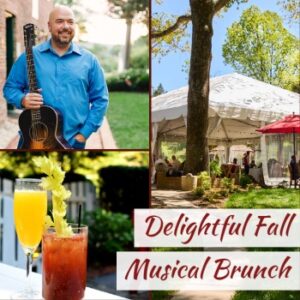 Sunday, October 24th at 11am. Local guitarist John Sweet arranges and performs popular music from the last several decades on acoustic guitar. From Elvis, Sinatra and the Beatles to folk, pop, country and show tunes, John is sure to please most musical palates. John lets the guitar carry the beautiful melodies, providing a pleasant background ambience suitable for fine dining and good conversation.
Our Delightful Fall Musical Brunch Experience will be offered on our covered garden terrace 40ft x 55ft Grande Tente. Complete with plenty of room for generous distancing, six circulating fans, café bistro lighting and pastoral views of our 6 acres, two on-site gardens, koi pond, blooming flowers, our "Grande Tente" will be the perfect place for a relaxing and uplifting musical celebratory afternoon.
Feast on Chef Jacques' three-course menu paired with sumptuous brunch cocktails while John provides his uplifting acoustical music. Start your day at L'Auberge Chez François and end your weekend on a high note!
A DELIGHTFUL FALL MUSICAL BRUNCH MENU
Assorted Breads Course, House-Made Croissants, Local Butter
Crémant d'Alsace, Mimosas, Bloody Marys, Papa's Pilsner
Appetizer (choice of one):
Warm Roquefort Cheese Tart, Caramelized Apples, Cinnamon, Calvados
-or-
Fall Bounty Garden Organic Salad, Vinaigrette Maison
Entrèe (choice of one):
Maine Lobster Omelet made with Farm Fresh Local Eggs,
Seasonal Vegetables, Roasted Potatoes, Hollandaise Sauce
-or-
Creekstone Farms Natural Filet Mignon Benedict, Two Farm Fresh Local Poached Eggs, Béarnaise Sauce,
Roasted Potatoes, Seasonal Vegetables
Dessert:
L'Auberge Chez Francois' Warm Chocolate Soufflé
Locally Roasted Coffee, Harney & Sons Fine Teas
Event Price: $75.00 per perseon;
Including Tax & Gratuity for a total of $96.00.
Tickets non-refundable. We are happy to accommodate guests' dietary concerns, so all may join the festivities.
Please email chezlauberge@aol.com or call 703-759-3800 with special requests.