December 15, 2018




11:00 am - 2:00 pm
 Saturday, December 15, 2018 11:00 AM
Celebrate the holidays in style with a Champagne Celebration cooking demonstration and luncheon on Saturday, December 15th, 2018 at 11:00am.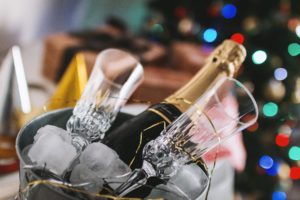 Chef Jacques will be entertaining our guests with a lively cooking demonstration highlighting Champagne, of course, and followed by a very festive feast featuring delectable scallops, caviar, classic lobster Thermidor, Valrhona chocolate, and yes please, more bubbly, oui – bien sur!
According to  L'Auberge Chez François tradition, we offer these featured wines for purchase, at a special price for you to enjoy at home, with family and friends, or at your holiday parties.
Eat, drink and be merry this season at L'Auberge Chez François.  Bonnes Fêtes, Season's Greetings, and Happy Holidays!
Cooking Demonstration
Mumm Brut Cordon Rouge
Festive Champagne Celebration Menu
Champagne-Poached Nantucket Bay Scallops, Salmon Caviar
Piper Heidsieck "Cuvee 1785"
Holiday Salad, Beets, Crudités, Champagne Vinaigrette
Champagne Sorbet
Classic Maine Lobster Thermidor
Maine Lobster, Crème Cognac Sauce, Cheese Medley, Puree Rose Root Vegetable
Henriot Brut Rose
Valrhona Dark Chocolate and Passion Fruit Mousse Cake, Champagne Custard Sauce
Gilette's Locally-Roasted Coffee, Harney & Sons Fine Teas
$122.00
excluding tax and gratuity; for a total of $155.00
Tickets non-refundable
We are happy to accommodate guests' dietary concerns, so all may join the festivities.  Please email chezlauberge@aol.com or call 703-759-3800 with special requests