December 6, 2019




11:00 am - 2:00 pm
Friday, December 6, 2019 11:00 AM
Please join us as we continue to usher in the holidays "L'Auberge Chez François style", on Friday, December 6th, 2019 at 11:00 AM.  Chef Jacques will be hosting his annual and always sold-out  "A Holiday in Paris" cooking demonstration and luncheon, featuring the delectable cuisine and wines inspired by the romantic French capital.
You will be transported to the magical city of Paris as you sip sparkling wine and learn how to prepare Parisian classics that are fit for your holiday table. Lobster martini with caviar, foie gras, and Papa François' Holiday Yule Log are all on the menu for a decadent cooking demonstration and luncheon that will put you in the mood to celebrate the holidays Parisian-style.  Don't forget, all of our spectacular holiday decorations will be in place and ready to complement this festive day of holiday delights and good cheer!
Vive La France et Joyeuses Fêtes!
Cooking Demonstration
Antech Blanquette de Limoux Brut
Holiday in Paris Menu: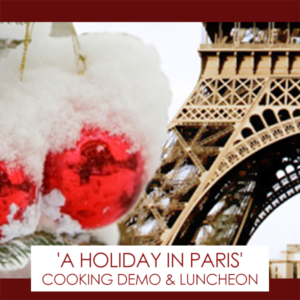 Maine Lobster Martini with Osetra Caviar
Maison Shaps Bourgogne Chardonnay 2017

Chef Jacques' Holiday Salad
Blood Orange Sorbet
Classic Creekstone Farms Natural Beef Wellington, Roasted Potatoes, Seasonal Vegetables, Truffle Sauce
Chateau de Beau Vallon Saint-Emilion 2015
Papa Francois' Holiday Mocha Yule Log
Gilette's Locally-Roasted Coffee, Selection of Harney & Sons Fine Teas
$110.00,
excluding tax and gratuity; for a total of $140.00
Tickets non-refundable
We are happy to accommodate guests' dietary concerns, so all may join the festivities.  Please email chezlauberge@aol.com or call 703-759-3800 with special requests.
Patrons will have an opportunity to purchase these wines at a very special price this afternoon.