A Musical Brunch Featuring the Delightful Music of Laura Van Duzer


June 11, 2023




11:00 am - 2:00 pm
Please join Chef Jacques and team on Sunday, June 11th at 11:00am for a delightful musical brunch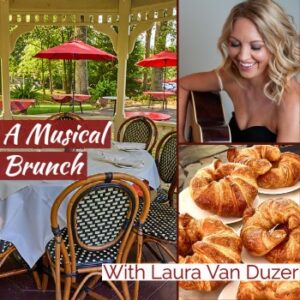 featuring Laura Van Duzer! Enjoy delicious cuisine as we toast to Printemps and upcoming Summer!
Laura, a multi-talented singer-songwriter, performer, pianist, and guitarist will be leading us today in all the fun. Laura holds the position of Music Director and Performing Arts Department Chair for the Academy of Holy Cross, in Maryland, and is the former Choral Director for Bishop Denis J. O'Connell High School in Arlington, Virginia. She has performed in many dinner theaters, plays, and musicals, and has also lead keyboard and vocals for the The Chance Club Band. Hum, sing along, and enjoy all your favorite tunes while enjoying a fabulous menu!
Chef Jacques has created a superb Sunday brunch menu for you to enjoy, accompanied by special brunch cocktails, and of course, bubbles, as you enjoy the afternoon's music. Why not spend your Sunday with us listening to beautiful music over a delectable brunch? Merci beaucoup and see you there!
A MUSICAL BRUNCH MENU
Assorted Brunch Libations:
Crémant d'Alsace, Mimosas, Bloody Marys, Papa's Pilsner
Corbeille de Pain (Bread Basket)
Assorted Breads and Chef Pascale's House-Made Croissant, Local Butter
Appetizer
Carolina Shrimp Bisque
Entrée (Choice of One)
Crab Cakes Benedict, Two Poached Eggs, Brioche Toast, Hollandaise Sauce
-or-
Creekstone Farms Natural Filet Mignon Benedict, Two Poached Eggs, Béarnaise Sauce
Dessert
Papa François' Gateau de Framboise Raspberry Mousse Cake
Julius Meinl Coffee and a selection of Harney and Sons Fine Teas
Event Price: $98.00 (excluding tax and gratuity), for a total of $125.00 per person.
Tickets are non-refundable. We are happy to adjust the menu to accommodate guests' dietary restrictions. Should you have alternative requests, please email chezlauberge@aol.com or call 703-759-3800