September 23, 2018




6:00 pm - 10:00 pm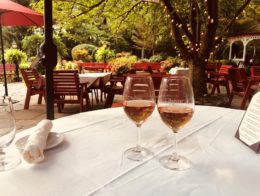 Sunday, September 23, 6:00 pm
Please join Chef Jacques and the L'Auberge Chez François team on Sunday, September 23rd, at 6:00 pm for our popular full moon garden-to-table rosé fête on our beautiful outdoor terrace (weather permitting), featuring the taste of world famous wines from the Boisset Collection and the sounds of Thomas Kitchen and The Tritone Jazz Trio.
Thomas Kitchen is a classical-trained jazz guitarist who plays a wide range of musical styles and performs regularly in and around the metropolitan area. The Tritone Jazz Trio grew out of a longstanding jazz performance in Silver Spring, MD, where keyboard player Peter Runk, bassist Walter Heber, and guitarist Thomas Kitchen met. Since that time, the Trio has played in a variety of performances together throughout the DC metropolitan area.
The party begins with a reception, sipping chilled JCB 69 Crémant Rosé and savoring seasonal canapés.
We will toast the moon's fire, abundance, power and vitality, before sitting amid flowers and murmuring fountains to relish Chef Jacques' garden-to-table inspired repast, from his two on-site gardens, accompanied by two more refreshing Rosé wines.
Those intrepid enough can join Chef Jacques in the gardens to conclude the evening by howling at the moon, the chef's tradition to ensure an excellent harvest of vegetables and herbs throughout the season.
Full Moon Rosé Garden Party Menu:
Chef Jacques' Seasonal Canapés
JCB 69 Crémant Rosé
Grilled Diver Scallops Provençal
JCB N° 5 Côtes de Provence, 2015
Garden Haricot Vert and Mesclun Salad,  Housemade Vinagrette
Seasonal Sorbet
Roasted Lamb Loin with Roasted Garden Root Vegetables
Maison Fortant Coteaux de Varois en Provence, 2016
Chocolate and Passion Fruit Mousse Cake
Gilette's Locally-Roasted Coffee, Selection of Harney & Sons Fine Teas
$125.00
excluding tax and gratuity, for a total of $160.00
 We are happy to accommodate guests' dietary concerns, so all may join the festivities. Please email chezlauberge@aol.com or call 703-759-3800 with special equests. Patrons will have an opportunity to purchase these wines at a special price.