A "Pleine Lune (Full Moon) Fête" Six-Course Wine Dinner Experience Featuring the Dynamic "Odyssey Express 4 Band" with Prince Havely (and an appearance by Chef Jacques on the Drums!)


September 19, 2021




6:00 pm - 9:00 pm
La Grande Tent Terrace – Very Limited Exclusive Seating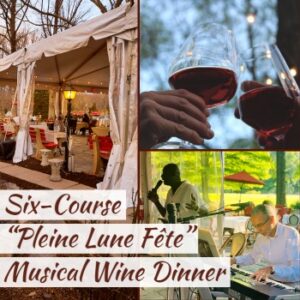 Odyssey has been known for decades to mean high quality, reliability and great dance music! Odyssey Express Band will play this special evening featuring Prince Havely at the helm, Tim Wynn, Efi Tovia, and Wes Crawford as we celebrate the beautiful full moon tonight! Odyssey features excellent vocals, a solid dance groove, and a mix of songs from a variety of genres and decades.
Chef Jacques and team has created an enticing six-course menu de degustation paired with our sommelier chosen delectable wines.
Our very special "A Pleine Lune Fête" is offered on our covered garden terrace 40ft x 55ft tent, complete with plenty of room for generous distancing, six cooling fans, cafe bistro lighting and pastoral views of our 6 acres, two on-site gardens, koi pond and blooming flowers. A stroll, with your wine, of course, to our two on-site vegetable and herb gardens is always encouraged!
All wines will be available for purchase at a very special "trade" discounts for our customers that evening only. Merci beaucoup and see you there! Chef Jacques invites you to "howl at the moon" with him as part of this evening full moon toe tapping special experience!
Get your dancing shoes on and join us at this special event! Note: Not to be missed- Chef Jacques' showcasing his drum talents & favorite songs with this high energy band.
Very Limited Seating. Early Sign-Up Encouraged.
A Full Moon Musical Showcase Soirée Menu
Greeter-Belle Jardin, Blanc de Blancs
Cours de Pain
Harvest Multigrain & Sourdough Rolls, Local Butter
Chef Jacques' Seasonal Canapes
Belle Jardin, Blanc de Blancs
Third Course Maine Lobster Martini, Chives, Lemon Zest
Les Costières de Pomerol, Picpoul de Pinet, Languedoc 2020
Fourth Course La Salade de l'Auberge, Organic mesclun salad, garden crudités, vinaigrette maison
Seasonal Sorbet
Fifth Course Wild Mushroom Crusted Creekstone Farms Natural Beef Tenderloin, Roasted Garden Root Vegetables, Bordelaise Sauce
Gouleyant, Malbec de Cahors 2019
Dessert Course Warm Valrhona Chocolate Souffle
Locally Roasted Coffee, Selection of Harney & Sons Teas
Event Price: $165.00 per person; Including Tax and Gratuity for a total of $211.00 per person.
Very Limited Exclusive Seating. Tickets non-refundable. We are happy to adjust the menu to accommodate guests' dietary restrictions. Should you have any requests, please email chezlauberge@aol.com or call 703-759-3800. Patrons will have the opportunity to purchase Sommelier selected wines at a special price exclusively this evening. Merci beaucoup and see you there.
Details
Price
Qty
Ticket for a "Pleine Lune (Full Moon) Fête" Six-Course Wine Dinner Experience Featuring the Dynamic "Odyssey Express 4 Band" with Prince Havely (and an appearance by Chef Jacques on the Drums!)
$211.00

(USD)

Sold Out