'A Salute to Moms' Lively Mother's Day Cooking Demonstration & Luncheon Experience


May 7, 2021




11:00 am - 1:00 pm
Presented in our Rooster Room – Very Limited Exclusive Seating
Join Chef Jacques Haeringer and make Mother's Day extra special for your mom or your special someone with Chef's lively, exclusive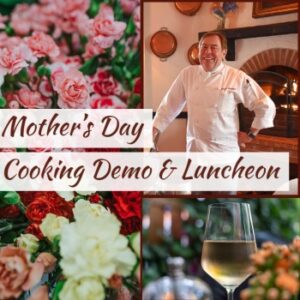 culinary demonstration and a delectable six course luncheon on Friday, May 7th at 11:00 AM.
Your "Salute to Moms" day begins in our rooster room sipping chilled Belle Jardin, Brut Blanc de Blancs, from our homeland of Alsace, all the while enjoying Chef Jacques demonstrating selections of his very special recipes "on set", similar to Chef Jacques' many appearances on the Today Show. Recipes for the home chef will also be provided today.
Our cooking demonstration and luncheon will feature socially-distanced tables in our beautiful Rooster Room, with 15-foot ceilings and large windows. You will be seated at your exclusive table and served Chef's Jacques' seasonal canapes, while sipping bubbly, and continue on to our Classic French Repast, after Chef's cooking demo.
Our grand Mother's Day celebration features our delectable six-course "Menu du Jour pour Mama" paired with fine French wines chosen by our sommelier. For the finale you ask? Mais oui, but of course, our pièce de résistance: a Valrhona Chocolate Soufflé with Chocolate Sauce to round out a very special celebratory day.
This culinary demonstration hits the spot and makes the perfect gourmet gift and repast. We would be honored if you join us and celebrate Mom or someone special in your life at L'Auberge Chez François!
"Amour aux Mamans" et "Bon Appetite"!
Mother's Day Cooking Demonstration
Belle Jardin, Brut Blanc de Blancs
Mother's Day Luncheon Menu Experience
Cours de Pain: Harvest Multigrain & Sourdough Rolls, Local Butter
Grilled Carolina Shrimp, Garden Herb and Garlic Butter, Crispy Leeks
Domaine d'Henri Petit Chablis
La Salad de l'Auberge, House-Made Vinaigrette
Seasonal Lemon Sorbet
Garden Chive Crusted Wild Maine Halibut,
Roasted Organic Jumbo Asparagus, Seasonal Vegetables, Lemon Beurre Blanc
Boutinot, Cairanne "La Côte Sauvage"
Valrhona Chocolate Soufflé with Valrhona Chocolate Sauce
Locally-Roasted Coffee, Selection of Harney & Sons Fine Teas
Event Price: $142.00
(excludes tax and gratuity) for a total of $182.00 per person.
Tickets non-refundable. Very limited exclusive seating.