February 2, 2020




11:00 am - 1:30 pm
Sunday, February 2nd, 2020  11am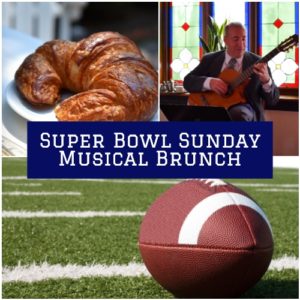 Please join us on Sunday, February 2 at 11:00am before the big game and kick off your day with a Super Bowl Sunday Musical Brunch featuring the beautiful sounds of guitarist Jarrett Laskey. Back by popular demand, Jarrett is a professionally trained classical guitarist performing a repertoire of Spanish/Latin guitar music, standard classical and contemporary songs. Jarrett's music provides the perfect ambiance while dining on Chef Jacques' specially created four-course menu paired with brunch cocktails served throughout your meal. Bon appétit and let the games begin!
MENU
Assorted Breads and House-Made Croissants
Crémant d'Alsace, Mimosa, Bloody Mary, Hot Mulled Wine, Papa's Pilsner
APPETIZER
Choice of One:
Apple and Roquefort Tart
-or-
Caramelized Onion Tart
SALAD
Chef Jacques' Goat Cheese Salad
Organic Mesclun Greens, Local Goat Cheese, Vinaigrette Maison
ENTRÉE
Choice of One:
Classic Vol-Au-Vent
Organic Poached Chicken, Wild Mushrooms, Sherry Cream Sauce, Puff Pastry
-or-
Pinot Noir-Braised Short Ribs Benedict, Red Wine-Poached Organic Eggs, Bordelaise Sauce
-or-
Seafood Crepe – Medley of Lobsters, Scallops and Shimp, Lobster Bisque Sauce
DESSERT
Exotic Mixed Fruit Gratin, Sabayon Sauce
Gilette's Locally-Roasted Coffee, Harney & Sons Premium Teas
Event Price: $60.00, excluding tax and gratuity; for a total of $76.00
Tickets non-refundable.
We are happy to accommodate guests' dietary concerns, so all may join the festivities.  Please email chezlauberge@aol.com or call 703-759-3800 with special requests.