A "Tour de France" Wine Dinner Experience Featuring Kobrand's French Luxury Wine Specialist, Antoine Collette


February 23, 2023




6:00 pm - 8:00 pm
Please join us Thursday, February 23rd as Chef Jacques welcomes Antoine Collet, French Wine and Luxury Brand Specialist from Kobrand Corporation, to present a vinous "Tour de France" Six-Course Wine Dinner Extraordinaire, featuring selections from their unmatched portfolio. For over 75 years, Kobrand has been a leading importer of classic French wines into the United States, and we are thrilled to be "touring" and tasting some of the world best wines from our mother country – France!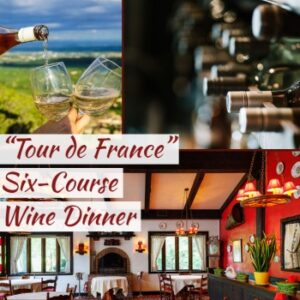 Our Tour de France Dinner Extraordinaire will be held in our lovely Garden Room this evening, overlooking our grounds and gardens. After a reception Bouvet-Ladubay, Cremand de Loire, your French Dinner Experience begins with two of France's top white wines. The excellent pairing for Chef Jacques' favorite Grilled Lamb Chops, are two top producers of Château la Nerthe and Domaine Prieur-Brunet (Jadot).
Finish our French Tour with a delectable Dessert from Chef Pascal, Gâteau de Mousse au Chocolat et Framboise.
With Kobrand's Luxury Wine Portfolio, and Chef Jacques multi-course luscious Romance themed Degustation Multi Course Menu, and we've assembled all the ingredients for a wonderful and memorable experience for you at L'Auberge Chez Francois, Open Tables Top 100 Restaurants in America for Romance! All Antoine's delectable Wines will be available to purchase at very special pricing this festive evening.
Cheers to romance and see you there. Bon appetit, No need for your passports!
Tour de France Menu Dégustation
Reception – Seasonal Canapés Bouvet
Ladubay, Crémant de Loire
Corbeille du Pain (Bread Basket)
Harvest Multigrain & Sourdough Rolls, Local Butter
Third Course
Loup de Mer et Julienne de Celeri Rave – Poached Local Rockfish with Celery Root Julienne, Herb Beurre Blanc
Zind-Humbrecht, Riesling "Roche Granitique" 2020
Fourth Course
Mousseline du Homard Maine, Sauce Châteauneuf-du-Pape
Mousseline of Maine Lobster, Châteauneuf-du-Pape Saucé
Château la Nerthe, Châteauneuf-du-Pape Blanc 2021
Main Course
Côtelettes d'Agneau Grillées, Jardin Ratouille, Sauce Thym
Grilled Marcho Farms Lamb Chops, Classic Cassoulet, Thyme Sauce
Château la Nerthe, Côtes-du-Rhône-Villages "Les Cassagnes" 2020
Domaine Prieur-Brunet (Jadot), Santenay 1er Cru "La Maladière" 2020
Dessert Course
Gâteau de Mousse au Chocolat et Framboise
French Chocolate and Raspberry Mousse Cake
Event Price: $208.00 per person (excluding tax and gratuity); for a total of $266.00 per person.
Tickets non-refundable. We are happy to accommodate guests' dietary concerns, so all may join the festivities.
Please email chezlauberge@aol.com or call 703-759-3800 with special requests. Patrons will have an opportunity to purchase highly rated wines at a very special price this evening.