January 6, 2019




5:30 pm - 10:00 pm
Sunday, January 6th, 2019 5:30pm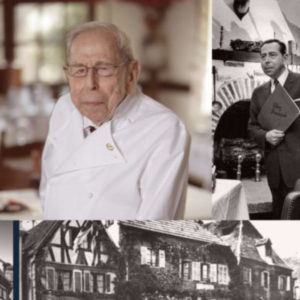 Please join Chef Jacques, Paul Haeringer and the entire team of L'Auberge Chez François and Jacques's Brasserie on Sunday January 6, 2019 at 5:30 PM as we toast and celebrate our founder, Papa François Haeringer on his 100th birthday.  Dine on the "Classics" menu of Papa's very favorite dishes from his beloved Alsace, as we take a trip down memory lane.
Francois' favorite Alsatian feast "La Choucroute Royale Garnie" has been on our menu for over sixty-four years and includes sauerkraut, sausages, pork, duck confit and foie gras. A modern rendition of the classic Alsatian dish with various smoked fish and shrimp, created by Papa's dear friend, Chef Guy-Pierre Baumann of Strasbourg, will also be available as an entrée choice.
Sing Happy Birthday to Papa, as we present his favorite dessert, Le Bettleman Grand-Mère Cécile, my Grandmother's bread pudding with housemade Tahitian vanilla sauce – the same recipe brought to America by Papa Haeringer. This five-course dinner, of course, is paired with three fine wines from Alsace, where minerality and freshness aren't just concepts, they are the story of the wines.
During this very special evening, you will view a moving video history, a true labor of love, spearheaded and produced by my cousin, and Papa's nephew and namesake, François "Mano" Haubtmann. Over many years of filming smiles, tears, and edits, it took some additional coaxing for Papa to complete.  We are grateful to Mano for his steadfastness in getting the tape to its final version as we hear our Centurion Papa Haeringer, in "his own words" tonight.
A Tribute to Papa François Haeringer's 100th  Birthday Celebration Menu:
Seasonal Amuse-Bouche
Sipp Mack Crémant d'Alsace Brut
Smoked Norwegian Salmon and Wild Mushroom Tart
Mosbach Riesling d'Alsace 2016
Cave-Aged Gruyère Cheese Salad
House-made Kirsch Sorbet
Choice Of:
Papa Haeringer's La Choucroute Royale Garnie
Sauerkraut, Sausages, Pork, Duck Confit, Foie Gras
Mader Pinot Gris d'Alsace 2017
-or-
Choucroute de Poissons Alsacienne
(A Création of Chef Guy-Pierre Baumann, Chef Haeringer's Friend from Strasbourg)
Sauerkraut, Salmon, Smoked Salmon, Seabass, Shrimp, Beurre Blanc
Mader Pinot Gris d'Alsace 2017
Le Bettleman Grand-Mère Cécile
My Grandmother's Bread Pudding with Housemade Tahitian Vanilla Sauce
Gilette's Locally-Roasted Coffee, Harney & Sons Fine Teas
$98.00
excluding tax and gratuity, for a total of $125.00
Tickets non-refundable
We are happy to accommodate guests' dietary concerns, so all may join the festivities.  Please email chezlauberge@aol.com or call 703-759-3800 with special requests
All wines will be available for purchase at a special price for our customers that evening.  Merci beaucoup and see you there.
We're sorry, but all tickets sales have ended because the event is expired.