A Very Exclusive Cakebread Cellars Seven-Course Wine Dinner Experience Featuring Jeff Dixon, Kobrand Wine


May 26, 2022




6:00 pm - 9:00 pm
A La Grande Tente Garden Terrace Event! 
Please join us on Thursday, May 26th at 6pm when we welcome Cakebread Cellars to L'Auberge Chez Franҫois for an evening of fine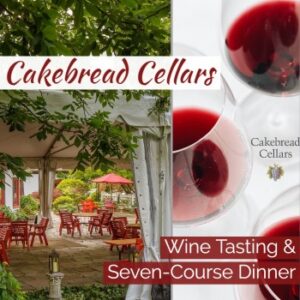 food with one of California's benchmark wineries.
The Cakebread family, owners of Cakebread Cellars in Rutherford, is one of the most highly esteemed and successful wineries in California's famed Napa Valley. Since its founding in 1973, the winery has earned a reputation for exceptional wines and gracious hospitality. Cakebread's success has been built on quality, consistency and continuity – characteristics the family believes apply equally to the grapes, the wines and the people who create Cakebread's world-class wines. Each of the Cakebreads has contributed his or her individual talents to produce a harmonious, synergistic blend. Chef Jacques and his team has created a very special menu from his award-winning kitchen to perfectly pair with these wines.
Please join us for an evening of fabulous wine and cuisine offered on our covered garden terrace 40ft x 55ft Grande Tente, complete with cooling fans, café bistro lighting, and pastoral views of our six acres, two on-site gardens, koi pond, and blooming flowers; early reservations encouraged. Merci beaucoup and see you there!
Bon appétit and cheers!
Cakebread Cellars Wine Dinner Experience by Chef Jacques
Chef Jacques' Seasonal Canapés
Cakebread Cellars, Sauvignon Blanc, Napa Valley 2020
Pre-dinner Tasting Flight: 2 Wines
Cakebread Cellars, Cabernet Sauvignon, Napa Valley 2019
Cakebread Cellars, Cabernet Sauvignon "Benchland Select," Napa Valley 2018
Corbeille de Pain (Bread Basket)
Multi Grain & Sourdough Breads, Local Butter
La Coquille de Crustacés Shrimp, Crabmeat, Lobster, Scallops, Salmon, Garden Herb Rémoulade Sauce
Cakebread Cellars, Chardonnay, Napa Valley 2020
Seared Medallion of Ahi Tuna, Cakebread Cellars Pinot Noir Reduction Wilted Greens from Our Garden
Cakebread Cellars Pinot Noir "Two Creeks Vineyards", Anderson Valley 2019
Seasonal Sorbet
Creekstone Farms Natural Peppered New York Strip, Roasted Asparagus, Shitake Mushrooms, Roasted Potatoes Cakebread Napa Valley Cabernet Sauvignon Reduction
Mullan Road Cellars, Cabernet Sauvignon, Columbia Valley 2017
L'Auberge Chez Francois' Warm Raspberry Soufflé
Julius Meinl Coffee & Selection of Harney & Sons Fine Teas
Event Price: $215.00 (excluding tax and gratuity), for a total of 275.00 per person.
Please click below or call (703) 759-3800 to register.
We are happy to adjust the menu to accommodate guests' dietary restrictions, please email chezlauberge@aol.com with special requests.
Patrons will have an opportunity to purchase these top-rated wines at a special price for your home celebrations and also make for culinary memories and gifts.
Tickets are non-refundable.