A Very Special French Rose Wine Six Course Dinner Experience with Jeffrey Dixon, Kobrand Wines


May 6, 2021




6:00 pm - 9:00 pm
Le Grand Garden Tent Terrace – Very Limited Exclusive Seating
You are cordially invited to join us on our Grande Garden Tente, Thursday May 6th at 6pm to celebrate spring with five unique all French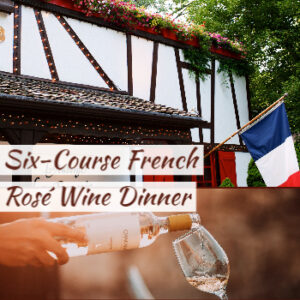 roses, all paired expertly with Chef Jacques' and teams creations to tantalize your palate.
Our co-host, Jeffrey Dixon, VA State Manager for Kobrand and Certified Wine Educator, will take you on an exquisite journey of the "Red Hot" French Rosé selections and mais oui, but of course, Chef Jacques will craft a sumptuous six course repast featuring seasonal ingredients to bring out the best in the rosé wines for our evening's soirée-
These five classic wines have been chosen to showcase the quality and diversity of French rosé, from the Loire Valley to Provence, Burgundy, and the Rhone – and all are perfect for "Printemps" fare and summer sipping.
We'll begin with an elegant Brut Rose of Cabernet Franc, and end with a rare tasting of aged vintages from the legendary Chateau d'Aqueria – and in between discover the regions, grape varieties, and techniques which make French rose world-famous.
Our French Rosé Wine Dinner Experience will be offered on our covered garden terrace 40ft x 55ft tent. Complete with plenty of room for social distancing, cafe bistro lighting and pastoral views of our 6 acres, two on-site gardens, koi pond, blooming flowers, our "Grande Tente" will be the perfect place for a relaxing and uplifting evening.
Think pink and see you there!
French Rose Wine Six Course Dinner Experience  
 1st Course
Chef Jacques' Seasonal Canapes
Sparkling Rosé by Bouvet
2nd Course
Cours de Pain: Harvest Multigrain & Sourdough Rolls, Local Butter
3rd Course
Poached Maine Halibut in an Aromatic Broth
Provençal Rosé by AIX
4th Course
Morrel Mushroom & Herb Crusted Murray's Grilled Chicken Breast, Morrel Jus
2020 Jadot "Domaine Clair Dau" Marsannay     
5th Course
Grilled Tapenade Crusted Ahi Tuna Medallion, Garden Herb Risotto, Garden Vegetables
2019 Chateau d'Aqueria Tavel (Rhone)
2018 Chateau d'Aqueria Tavel (Rhone)
6th Course
"Mille Feuille" Classic Napoleon 
Locally Roasted Coffee, Selection of Harney & Sons Fine Teas
Event Price: $165.00
excluding tax and gratuity; for a total of $212.00 per person.
Tickets non-refundable. Very Limited Exclusive Seating.
We are happy to accommodate guests' dietary concerns, so all may join the festivities.
Please email chezlauberge@aol.com or call 703-759-3800 with special requests
Patrons will have an opportunity to purchase these wines at a very special price this evening only.