November 8, 2019




7:00 pm - 10:00 pm
 Friday, November 8, 2019 7:00 PM

Please join us for an extraordinary event on Friday, November 8th, 2019 at 7:00 PM, where France meets Virginia in the wines of Michael Shaps Wineworks and Maison Shaps.
Known for his innovation and winemaking expertise, Michael Shaps has established himself at the forefront of the modern Virginia wine industry.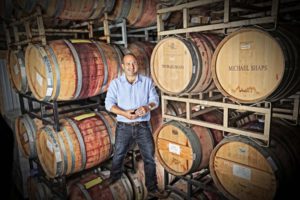 Producing wines under the Michael Shaps label and for several prestigious wineries throughout the state–one winning the Governor's Cup in 2017–his accolades and national recognition are beyond compare.
Mr. Shaps also holds a degree in Enology and Viticulture from the Lycée Viticole de Beaune in Burgundy, and has been making wine in Burgundy since 2004.
 Both his French and Virginian wines are made in traditional, old-world style, with careful attention to detail but minimal intervention.
MENU
Chef Jacques' Seasonal Canapes
Maison Shaps Bourgogne Chardonnay 2017

Sauteed Chesapeake Rockfish, Roasted Butternut Squash, Sage Beurre Blanc
Michael Shaps Petit Manseng, Monticello 2016
Grilled Free Range Breast of Chicken Stuffed with Mushroom Medley
Maison Shaps Bourgogne Pinot Noir 2017
Maison Shaps Pommard 2015
Classic Steak Au Poivre with Bordelaise Sauce, Seasonal Vegetables
Michael Shaps Tannat, Monticello 2016
Passionfruit and Chocolate Gâteau
Gilette's Locally Roasted Coffee, Selection of Harney & Sons Fine Teas
$106.00;
excluding tax and gratuity, for a total of $135.00
Tickets non-refundable
We are happy to accommodate guests' dietary concerns, so all may join the festivities.
Please email chezlauberge@aol.com or call 703-759-3800 with special requests
Patrons will have an opportunity to purchase these wines at a very special price this evening.