November 3, 2019




11:00 am - 2:00 pm
Sunday, November 3, 2019 11:00 AM
Please join us for our ever-popular musical brunch series at L'Auberge Chez François on  Sunday, November 3rd, 2019 at 11:00 AM.  Local guitarist and composer Alexander Barnett will be performing a broad range of music from classical to modern and jazz. Since his first appearance at L'Auberge Chez François, Alex has been captivating our guests on a regular basis with sold-out events and performances.
Feast on Chef Jacques' three-course menu paired with sumptuous brunch cocktails while Alex provides his soft acoustical music.
Start your day at L'Auberge Chez François and end your weekend on a high note!
MENU
Assorted Breads and House-Made Croissant, Local Butter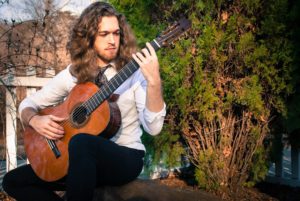 House-made Bloody Marys, Mimosas, and Crémant d'Alsace
Appetizer:
Choice of One:
Roasted Fall Root Vegetable Gateau, Wild Rice,Tomato Coulis, Fried Leeks
-or-
Onion Soup Gratinée
Entrée:
Choice of One:
Lobster and Crab Omelet, Fresh Local Eggs, Seasonal Vegetables, Roasted Potatoes, Hollandaise Sauce
 -or-
 Creekstone Farms Filet Mignon, Two Poached Eggs, Seasonal Vegetables, Roasted Potatoes, Béarnaise Sauce
 -or-
 Classic Vol-Au-Vent: Organic Poached Chicken, Wild Mushrooms, Sherry Cream Sauce, Puff Pasty
Dessert:
Pascal's Classic Paris Brest
Gilette's Locally Roasted Coffee, Selection of Harney & Sons Fine Teas
$60.00;
excluding tax and gratuity, for a total of $76.00
Tickets non-refundable
We are happy to accommodate guests' dietary concerns, so all may join the festivities.
Please email chezlauberge@aol.com or call 703-759-3800 with special requests