Autumnal Equinox Musical Brunch featuring Classical Guitarist Alexander Barnett


September 22, 2019




11:00 am - 2:00 pm
Please join Chef Jacques on Sunday, September 22, 2019 at 11:00 AM for our Musical Brunch on our outdoor terrace (weather permitting) as we toast the upcoming fall season, and our 65th Anniversary of Papa Haeringer's founding of Chez François,  featuring popular classical guitarist Alexander Barnett.
A local guitarist and composer, Alex's broad range of music ranges from classical to modern and jazz. Since his first appearance at L'Auberge Chez François, Alex continues to captivate our guests with his romantic-themed performances.
Chef Jacques has created a superb Sunday brunch menu for you to enjoy, accompanied by special brunch cocktails, of course, as you enjoy the afternoon's music. Why not spend your Sunday with us, listening to beautiful music over brunch and toast to the upcoming Autumnal Equinox and 65 years of L'Auberge Chez François and Chez François?  Cheers!
MENU: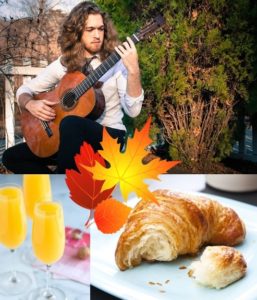 Assorted Breads and House-made Croissant, Local Butter
Apple Cider Mimosas, House-made Bloody Marys, Crémant d'Alsace
APPETIZER:
Choice of one:
Casserole of Roasted Fall Mushrooms, Red Wine
-or-
Exotic Fresh Fruit Salad
ENTRÉE:
Choice of one:
Filet Mignon, Two Poached Eggs, Seasonal Vegetables,, Béarnaise Sauce
– or –
Poached Maine Lobster and Crab Savory Crêpe, Seasonal Vegetables
– or –
Roasted Vegetable Gâteau Benedict, Two Poached Eggs, Seasonal Vegetables, Roasted Potatoes, Hollandaise Sauce
DESSERT:
Papa Haeringer's Petits Pots de Crème au Chocolat
Gilette's Locally Roasted Coffee, Selection of Harney & Sons Fine Teas
$60.00,
excluding taxes and gratuity; for a total of $76.00
Tickets non-refundable
We are happy to accommodate guests' dietary concerns, so all may join the festivities.
Please email chezlauberge@aol.com or call 703-759-3800 with special requests