November 7, 2018




7:00 pm - 10:00 pm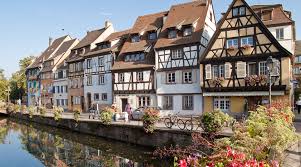 Wednesday November 7, 2018 7:00 PM
Please join us Wednesday, November 7th at 7:00 PM, for a guided tasting and dinner featuring the wines of Alsace. Our head sommelier Alex Bardsley spent five days there in June of 2017 with a Wine Scholar Guild study tour, meeting with vignerons in their cellars and vineyards, learning about the great diversity of wines they make.
Indeed, Alsace produces wines from more different varieties of grape, grown on more different types of soil, than any other major region in France. Part of this diversity is Alsace's fifty-one grand crus, six of which we shall visit through a tasting in two flights: the first of rieslings grown on different types of soil, and the second of three varieties, riesling, pinot gris and gewurztraminer, grown on similar soils.
Dinner will be accompanied by excellent white and red Alsatian wines by two more fine producers. Alex will guide the tasting, discussing the character of the different wines and highlighting the quality and diversity that make the grand crus of the region endlessly fascinating. Chef Jacques of course has devised a delightful meal to provide the wines an appropriate setting.
Hors d'Oeuvres and Seasonal Canapes:
Camille Braun Crémant d'Alsace
First Flight: Three Rieslings, Different Soils
Meyer-Fonné Riesling Grand Cru Wineck-Schlossberg 2016 (granite)
Paul Blanck Riesling Grand Cru Furstentum 2015 (limestone)
Domaine Schoffit Riesling Grand Cru Rangen de Thann 2013 (volcanic)
Second Flight: Three Varieties on marl-limestone and limestone-sandstone
Domaine Pfister Riesling Grand Cru Engelberg 2012
Domaine Albert Mann Pinot Gris Grand Cru Hengst 2015
Domaine Léon Boesch Gewurztraminer Grand Cru Zinnkoepflé 2014

Celebrate Alsace Wine Dinner Menu:
Bouchée of Nantucket Scallops, Shitake Mushrooms, Sevruga Caviar Sauce
André Ostertag Riesling "Les Jardins" 2016
L'Auberge Chez François Seasonal Salad, Maison Vinaigrette
Seasonal Sorbet
Filet of Norwegian Salmon, Maine Lobster Mousse, Pinot Noir Crème Sauce, Wilted Garden Spinach
Domaine Rieflé Pinot Noir "Strangenberg" 2016
Alsatian Kirsch and Valrhona Chocolate Mousse Cake
$150
excluding tax and gratuity; for a total of $190.00
We are happy to accommodate guests' dietary concerns so all may join the festivities. Please email chezlauberge@aol.com or call 703-759-3800 with special requests.
Limited quantities of these wines will be available for purchase that evening.