Chef Jacques' "Garden-to-Fork August Bounty" Exclusive Garden Tour and Wine Luncheon Experience


August 27, 2021




11:00 am - 2:00 pm
Garden Room – Very Limited Exclusive Seating
Please join on Friday, August 27, 2021 at 11:00am as we kick off our summer "Garden-to-Fork" exclusive Garden Tour and Luncheon.  We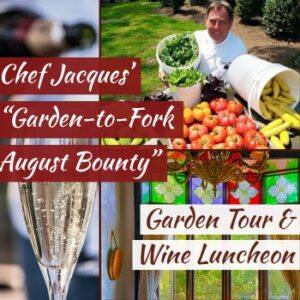 begin our day with Chef Jacques' leading an exclusive tour our two on-site lively Gardens and learn secrets of Chef Jacques' garden trade, with a glass of bubbly, mais oui, but of course. Retreat to our Garden Room and join us for our delectable "August Bounty" Garden-to-Table Wine Luncheon.  
L'Auberge Chez François, Chef Jacques and Stephanie, our lead gardener, are very proud of our two on-site gardens. They are both happy to suggest nutritionally superior food to make for delightful cuisine for this special afternoon's special experience. Most of all our menu items today will include "just picked from our garden" ingredients, and added to our menu for indeed a Garden to Fork delight.  
Add Sommelier selected wines to each course for a delectable and delicious experience. Please join us on this very special experience.

MENU: 
Garden Tour
Belle Jardin Crémant
Garden Gazpacho with Crispy Purple Basil
White:  Les Costières de Pomerol, Picpoul de Pinet 2020
Grilled "Just Picked" Grilled Vegetable Salad with Herb Maison Vinaigrette
Tangy House-made Lime Sorbet
Prosciutto Wrapped Rockfish and Garden Herb Beurre Blanc with Chef Jacques' Niçoise Vegetable Medley
Rosé: Domaine Lafage, "Miraflors" Rosé, Côtes Catalanes, 2019
Frozen Local Raspberry Soufflé

Locally Roasted Coffee, Selection of Harney & Sons Fine Teas  
Event Price: $110.00 per person; including tax and a gratuity for a total of $141.00 per person.
Tickets non-refundable. We are happy to accommodate guests' dietary concerns, so all may join the festivities.
Please email chezlauberge@aol.com or call 703-759-3800 with special requests. Patrons will have an opportunity to purchase these wines at a very special price this afternoon.