April 10, 2019




7:00 pm - 10:00 pm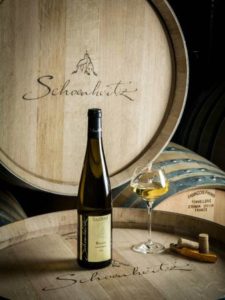 Schoenheitz…a name whose Alsatian meaning is related to "beauty" and "a taste for good things".  When history and nature join forces the only path to follow is that of EXCELLENCE.
Please join us Wednesday, April 10th, 2019 at 7:00 PM as we welcome Adrien Schoenheitz of Schoenheitz Winery, who will be presenting his family's wines from the Munster Valley (famous for its cheese) in Alsace. Adrien studied viticulture and oenology in Alsace and has worked in other parts of France including Châteauneuf-du-Pape, Switzerland, New Zealand and Australia.
The Shoenheitz family arrived in Alsace from Austria after the Thirty Years' War in the 17th century, starting a wine business in the village of Wihr-au-Val in 1812. Most of the vineyards around the village were destroyed during the First World War, and the village itself was levelled during the Second World War. Adrian's grandfather started replanting vines in the 1960s, and with Adrian's parents, established the winery in 1980.
The wines of Schoenheitz have only become available in Virginia in the last year, and we are pleased to be able to showcase them, with a delectable menu Chef Jacques designed to complement their qualities.
MENU

Seasonal Canapes
Schoenheitz Crémant d'Alsace
Sautéed Virginia Trout with Crispy Leeks and Garden Spinach, Beurre Blanc
2016 Schoenheitz Riesling
Roasted Arctic Char, Maine Lobster, Seasonal Vegetables,
Schoenheitz Pinot Noir Sauce
2018 Schoenheitz Pinot Noir
Ballotine de Poulet Strasbourgeoise
Organic Chicken Breast Stuffed with Foie Gras Mousse, Seasonal Vegetables, Truffled Chicken Jus
2016 Schoenheitz Gewurztraminer
2014 Schoenheitz Pinot Gris – Herrenreben
Alsatian Maribelle Éclair
Cream Puff, Filled with Maribelle Custard
Gilette's Locally-Roasted Coffee, Selection of Harney & Sons Fine Teas
$106.00
excluding tax and gratuity; for a total of $135.00
Tickets non-refundable
We are happy to accommodate guests' dietary concerns, so all may join the festivities.  Please email chezlauberge@aol.com or call 703-759-3800 with special requests
Patrons will have an opportunity to purchase these wines at a very special price this evening.