Fall Frolic Garden to Table Six-Course Wine Luncheon Experience


October 29, 2021




11:00 am - 1:00 pm
Rooster Room – Generously Spaced Elongated Tables- Very Limited Exclusive Seating
Chef Jacques is still harvesting from our two on-site gardens!  There will be plenty of kale, lettuces, greens, haricots verts, cabbages, herbs,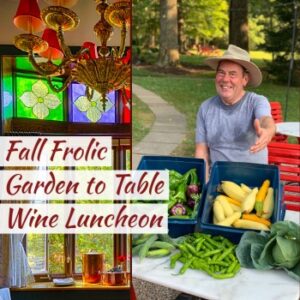 and other fresh produce this fall.
For our very special Fall Frolic Garden to Table Six-Course Wine Luncheon Experience, Chef Jacques will create a delectable full menu featuring the very freshest items that come from our gardens to your table. Enjoy a delightfully flavorful lunch in addition to all the added healthful benefits. Each course will also feature our sommelier-selected wines from our award-winning cellars.  Today's wine luncheon will be held in our beautiful Rooster Room. With generous spacing and a warm Alsatian ambiance, this will be the perfect space to enjoy our delectable and "oh-so fresh" Fall Frolic Garden to Table Wine Luncheon.
An experience not to be missed! À votre santé et bon appétit!
Fall Frolic Wine Luncheon Experience Menu
Amuse Bouche
Vincent Crémant de Bourgogne
Pain de Course (Bread Course) Harvest Multigrain & Sourdough Rolls, Local Butter
Fall Mushroom & Haricots Verts Napoleon
Mushroom Medley, Garden French Filet Beans in Puff Pastry, Truffle Sauce
2 Lunes Pinot Blanc, Alsace 2016
Chef Jacques' Organic Garden Vegetable Salad
Kale, Assorted Lettuces, Vinaigrette Maison
Grapefruit and Garden Tarragon Sorbet
Le Saumon Soufflé Norwegian Salmon & Seabass Mousse, Wilted Garden Spinach, Beurre Rouge, Garden Herbs
Castelas Côtes du Rhône Blanc 2018
A Fall Favorite Custard Pear Tarte, Homemade Vanilla Ice Cream
Locally Roasted Coffee, Assortment of Harney & Sons Teas
Event Price: $110.00 per person; including tax and a gratuity for a total of $141.00 per person.
Tickets non-refundable. We are happy to accommodate guests' dietary concerns, so all may join the festivities. Please email chezlauberge@aol.com or call 703-759-3800 with special requests. Patrons will have an opportunity to purchase these wines at a special price.