Gloria Ferrer "Stars of Summer" Sparkling Wine Dinner Soiree Experience with Jim Futrell, Republic National


July 21, 2022




6:00 pm - 9:00 pm
Come drink and enjoy the "Stars of Summer" as we pour the glamorous sparkling wines of Gloria Ferrer from sunny California and raise a glass to summer! We welcome the summer months with a fabulous sparkling wine dinner party featuring the exciting wines of Gloria Ferrer. Chef Jacques and team are excited to pop the bubbly with you (ohhhh, that sound!) along with our longtime friend and distributor, Jim Futrell with Republic National.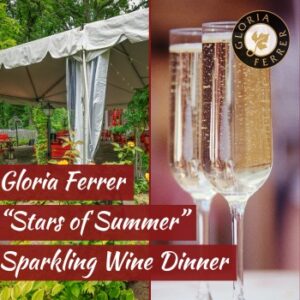 In 1982 the Ferrer family, proprietors of the world's largest producer of sparkling wine, Freixenet S.A., purchased 250 acres of land in Sonoma's Carneros wine district where they planted vineyards with the traditional sparkling wine grapes of Pinot Noir and Chardonnay.
The Ferrer family has been in the winemaking business since the 16th century in Spain. The winery was named after the owner's beloved wife.
Be sure not to miss this specially Chef curated culinary sparkling wine dinner soiree, while taking in the view on our scenic La Grand Tente Garen Terrace, sipping the "stars of summer" under the stars!
STARS OF SUMMER WINE DINNER MENU
Chef Jacques's Seasonal Canapes
Gloria Ferrer, Sonoma Brut
Corbeille de Pain
Multi Grain & Sourdough Breads, Local Butter
Chef Jacques' Jumbo Lump Crabcake, Garden Herb Remoulade
Gloria Ferrer, Blanc de Noirs Carneros
Parmesan Crusted Local Rockfish, Roasted Garden Vegetables, Ferro Sparkling-Wine Beurre Blanc Sauce
Gloria Ferrer, Brut Rosé
Chef Pascal's Chocolate Symphony White and Dark Chocolate Mousse
Locally-Roasted Coffee, Harney & Sons Fine Teas
Event Price: $140.00, excluding tax and gratuity for a total of $180.00 per person.
Tickets non-refundable. We are happy to accommodate guests' dietary concerns, so all may join the festivities. Please email chezlauberge@aol.com or call 703-759-3800 with special requests. Patrons will have an opportunity to purchase these very special wines at a special price this evening.