Grand Boisset Burgundy Wine Tasting and Dinner Featuring Neil Ruane


November 19, 2020




6:00 pm - 9:30 pm
Please join us Thursday, November 19th at 6:00 PM, for a guided wine tasting and dinner featuring the fine Burgundies of Jean-Claude Boisset. In 1961, Boisset founded his namesake négociant winery in Nuits-St.-Georges. The winery is housed in a former Ursulines convent where winemaker Grégory Patriat strives for authentic wines that are naturally expressive of their terroirs. Today his wines are considered among the best in Burgundy. One of the wines we will be tasting is his Clos de La Roche Grand Cru 2012, which was voted World's Best Red Wine at the International Wine Challenge. Neil Ruane, export director for the Boisset Collection, and our very own "Napoléon" in all of our Bastille Day Celebrations will lively guide us through the magic and history of one of the most fascinating wine regions in the world, before he returns to France on his final wine dinner with us. Neil returns to France on December 1, so this delectable and lively Experience will be very special send-off with amazing wines, and good fellowship, indeed. Bravo Neil and Merci!
A reception featuring seasonal canapés and Crémant de Bourgogne will be followed by a guided tasting of Premier and Grand Cru red Burgundies, to be followed in turn by a sumptuous Burgundian dinner created by Chef Jacques.
Very Limited Seating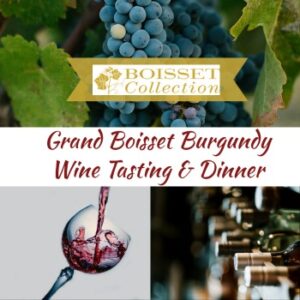 Seasonal‌ ‌Canapes‌ ‌Served‌ ‌Seated‌

 

‌
JCB‌ ‌No.‌ ‌21‌ ‌Brut‌ ‌Crémant‌ ‌de‌ ‌Bourgogne‌

 

‌
2009‌ ‌Chambolle-Musigny‌ ‌1er‌ ‌Cru‌ ‌"Les‌ ‌Charmes"‌

 

‌
2006‌ ‌Charmes-Chambertin‌ ‌Grand‌ ‌Cru‌

 

‌
2012‌ ‌Clos‌ ‌de‌ ‌la‌ ‌Roche‌ ‌Grand‌ ‌Cru‌

 

‌

 

‌
‌‌
Grand‌ ‌Burgundy‌ ‌Dinner‌ ‌Experience‌ ‌Menu:‌

 

‌
‌Mousseline‌ ‌of‌ ‌Maine‌ ‌Lobster,‌ ‌Osetra‌ ‌Caviar,‌ ‌Cognac‌ ‌Sauce‌

 

‌
Boisset Marsannay Blanc 2017
Our‌ ‌Garden‌ ‌Mesclun‌ ‌Green‌ ‌Salad,‌ ‌Crudités,‌ ‌Garlic‌ ‌Crouton,‌ ‌House‌‌made‌ ‌Vinaigrette‌

 

‌

 

‌
Blood‌ ‌Orange‌ ‌Sorbet‌

 

‌
Medallions‌ ‌of‌ ‌Marcho‌ ‌Farms‌ ‌Veal‌ ‌and‌ ‌Creekstone‌ ‌Farms‌ ‌Natural‌ ‌Beef‌ ‌Tenderloin,‌

 

‌
Grilled‌ ‌Lamb‌ ‌Chop,‌ ‌Fall‌ ‌Garden‌ ‌Vegetable‌ ‌Medley,‌ ‌Truffle‌ ‌Sauce‌

 

‌
2017‌ ‌Savigny‌ ‌1er‌ ‌Cru‌ ‌Les‌ ‌Lavières‌

 

‌
Classic‌ ‌Paris‌ ‌Brest‌

 

‌
The‌ ‌famous‌ ‌French‌ ‌Dessert;‌ ‌Pate‌ ‌a‌ ‌Choux‌ ‌with‌ ‌Praline‌ ‌Crème‌

 

‌

 

‌
Gilette's‌ ‌Locally-Roasted‌ ‌Coffee‌ ‌&‌

 

‌Assortment‌ ‌of‌ ‌Harney‌ ‌&‌ ‌Sons‌ ‌Fine‌ ‌Teas‌

 

‌
Event‌ ‌Price:‌ ‌$180.00‌
excluding‌ ‌tax‌ ‌and‌ ‌gratuity,‌ ‌for‌ ‌a‌ ‌total‌ ‌of‌ ‌$229.00
We are happy to accommodate guests' dietary concerns, so all may join the festivities.
Please email chezlauberge@aol.com or call 703-759-3800 with special requests
Patrons will have an opportunity to purchase these top-rated wines at a special price.
Please call for more information or if event is sold out, it is always worth calling to be added to our waitlist, in case of cancellations.
We're sorry, but all tickets sales have ended because the event is expired.