September 26, 2018




7:00 pm - 10:00 pm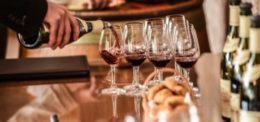 Wednesday, September 26, 2018 7:00 pm
Please join us Wednesday, September 26th at 7:00 PM, for a guided wine tasting and dinner featuring the wines of Burgundy. Fresh from a study trip to the region this past June, our head sommelier Alex Bardsley will present tastings of two flights of red Burgundies. The first flight will feature three Premier Cru Volnays from the Côte de Beaune by Domaine Nicolas Rossignol, from three different vintages. The second flight will showcase three wines from Nuits-Saint-Georges in the Côte de Nuits, by three different producers. Dinner will be accompanied by white and red wines from the village of Marsannay, at the northern tip of the Côtes de Nuits. Altogether, the event will highlight both the significant differences in style between two villages such as Volnay and Nuits, which are only about fifteen miles apart, and the subtler differences between vintages and producers, that make the wines of Burgundy so fascinating.
Two Tastings:
First Flight – Three Premier Cru Volnays
Rossignol, Volnay 1er Cru "Clos des Angles" 2012
Rossignol, Volnay 1er Cru "Clos des Angles" 2013
Rossignol, Volnay 1er Cru "Santenots" 2014
Second Flight – Three Nuits-Saint-Georges
Jean-Claude Boisset, Nuits-Saint-Georges "Les Charbonnières" 2015
Albert Bichot, Nuits-Saint-Georges 1er Cru "Château Gris" 2014
Domaine Gagey – Louis Jadot, Nuits-Saint-Georges 1er Cru "Les Boudots" 2011
Grand Burgundy Wine Tasting and Dinner Menu:
Mousseline of Maine Lobster, Osetra Caviar, Cognac Sauce
Jean-Claude Boisset, Marsannay Blanc 2015
Garden Mesclun Green Salad, Housemade Vinagrette
Blood Orange Sorbet
Medallions of Marcho Farms Veal and Natural Beef Tenderloins, Grilled Lamb Chop, Fall Garden Vegetable Medley, Truffle Sauce
Regis Bouvier, Marsannay Rouge "Clos du Roy" 2015
Blackberry Mousse Cake
Gilette's Locally-Roasted Coffee, Selection of Harney & Sons Fine Teas
$180.00
excluding tax and gratuity for a total of $229.00
We are happy to accommodate guests' dietary concerns, so all may join the festivities. Please email chezlauberge@aol.com or call 703-759-3800 with special requests. Patrons will have an opportunity to purchase these wines at a special price.