Hats Off to Dads - Chef Jacques' Father's Day "Grill Fest" Cooking Demonstration & Five-Course Wine Luncheon


June 11, 2022




11:00 am - 2:00 pm
Please join Chef Jacques Haeringer on Saturday, June 11th at 11:00am as we celebrate and honor dads with a lively Father's Day Grill Fest cooking demonstration and luncheon. Chef Jacques' favorite pastime is grilling; and he'll share his secrets to making a decadent meal outdoors on your grill.
We've selected a menu of classic mouthwatering favorites that are as fun to prepare as they are to eat. The afternoon's sure-to-please menu includes Grilled Carolina Shrimp, Local Grilled Asparagus and Garden Greens Salad, Grilled Bavette Steak and Potatoes, then rounded out with a delectable locally sourced Blueberry Custard Tarte and Cinnamon Ice Cream!
Add three specially paired wines selected by Paul Haeringer, to make this a très special way to celebrate Father's Day!
Grill forward! And cheers to our Papa Haeringer on this Father's Day. Papa's spirit infuses every aspect of our family restaurant, as well as his meticulously crafted meals. We hope you will join us today.
Father's Day Grill Fest Cooking Demo Luncheon Menu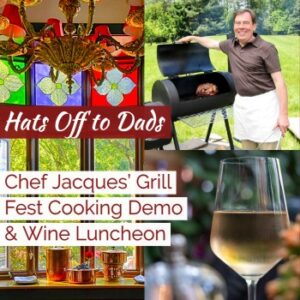 To Sip During the Demonstration
Belle Jardin Brut Mousseux
Cours de Cours de Pain
Harvest Multigrain, Sourdough Rolls, Local Butter
Grilled Cape Fear Carolina Shrimp, Garlic and Garden Herb Butter, Wilted Garden Greens
La Manarine Côtes du Rhône Blanc
Grilled Local Asparagus and our Garden Green Salad
Meyer Lemon & Garden Thyme Sorbet
Grilled Creekstone Farms Natural Bavette Steak, Garden Herb Potato Galette
Domaine du Cros Marcillac
Locally Sourced Blueberry Custard Tarte, Cinnamon Ice Cream
Julius Meinl Coffee and a Selection of Harney & Sons Fine Teas
Event Price $150.00, per person, excludes tax and gratuity;
for a total of $192.00 per person.
To register, reserve your tickets below or call us at (703) 759-3800.
Tickets are non refundable. We are happy to adjust the menu to accommodate guests' dietary restrictions. Should you have alternative requests, please email chezlauberge@aol.com or call 703-759-3800. All wines will be available for purchase at a special price for our customers this day.