"La Fête Nationale" Bastille Day French Wine Dinner Soirée Experience With Waiters & Waitresses Race, Featuring French Wines of Frederick Wildman and Music by Prince Havely & Patty Rose


July 17, 2022




4:00 pm - 8:00 pm
La Grande Tente Garden Terrace
Please join us on Sunday, July 17th at 4:00pm sharp for our 9th annual action-packed "La Fête Nationale" Bastille celebratory soirée at L'Auberge Chez François. Come enjoy an afternoon and evening that promises to be packed with fun, merriment, music, and, of course, wine and cuisine!
In honor of La Fête Nationale, dine on our outdoor covered terrace overlooking our gardens and grounds while enjoying a six-course menu de degustation created by Chef Jacques, paired with the fine French wines from Fredrick Wildman. The delectable dinner features "just picked" produce directly from our on-site gardens.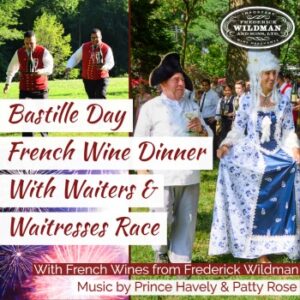 Let's kick off our celebration by cheering on the L'Auberge Chez François' Wait Staff competing in our very own Bastille Day Waiters Race (inspired by the famous footrace in Paris) around our two gardens and grounds!
NEW! Drumroll please… For the first time ever, our "La Fête Nationale" Bastille Day French Wine Dinner Soirée will feature a waiters race and a waitresses race! As more female employees have joined our team since the tradition began, the ladies are ready to join in on the competition! We are très excité for their Bastille Day debut – come cheer on your favorite waitress and waiter as they compete for the coveted first prizes!
Enjoy a glass of bubbly while cheering on your favorite server, as they race with trays filled with glasses and champagne bottles in a pre-selected route for the coveted Bastille Day Trophy and prizes, and, of course, serious bragging rights.
Let us not forget our very special guest, Marie Antoinette! The talented Victoria Pons-Strigari, Area Manager for the Mid Atlantic Fine Wine Division at Frederick Wildman & Sons, will be in full costume as Marie Antoinette and will kick off the race with the help of John Barth, who will most efficiently demonstrate the ancient art of sabering, along with Chef Jacques, Marie's sidekick, but of course.
The always entertaining Prince Havely will emcee this exciting event and our brief awards ceremony. In honor of La Fête, we continue our lively Bastille Day soirée, and head to our lovely tented garden grand terrace to sip and toast our homeland's independence and enjoy our Six-Course Bastille Day Menu de Dégustation created by Chef Jacques.
"Marie Antoinette" will present the paired Wildman Fine French wines, and the oh-so talented Prince Havely will lead in lively entertainment throughout the evening and lead us in the French National Anthem, singing along with our "French Connection" team members.
NEW! Prince will also be accompanied by special guest vocialist Patty Rose, singing well-loved French classics such as "La Vie En Rose," "'Sous le Ciel de Paris," and "C'est Si Bon," to name a few!
Celebrate the Francophile in you with us in this action-packed "not to be missed" Bastille Day Soirée! Reserve early, as we will sell out this ever popular celebration "Vive la France" and here's to an afternoon of delicious food, delectable wines and good French fun on Bastille Day! Bon Appétit!
4:00PM SHARP
BASTILLE DAY WAITERS & WAITRESSES RACE AROUND THE GARDENS
Glass of Crémant d'Alsace
2022 BASTILLE DAY SIX COURSE CELEBRATORY "MENU DE DEGUSTATION" CREATED BY CHEF JACQUES & TEAM
Corbeille de Pain
Our Famous Housemade Garlic Bread & "Bibelskais", Assorted Bread Basket, Local Butter
Classic French Canapés
Famille Vincent Cremant de Bourgogne
Chef Jacques' Garden Gazpacho with Poached Maine Lobster
Château La Tour de L'Evêque, Pétale de Rose, 2021
Alaskan Halibut, Julienne Garden Vegetables, Dill Beurre Blanc Sauce
Pascal Jolivet Sancerre, 2020
A Bastille Day Celebration Champagne Sorbet
Creekstone Farms Certified Angus Beef Filet Mignon, Sauce Choron, Spicy Onion Rings, Grilled Garden Vegetable Medley
Château Mont-Redon Châteauneuf-du-Pape, 2018
Chef Pascal's Trois Couleurs Napoléon with Local Raspberries and Blueberries
Locally-Roasted Coffee, Harney & Sons Fine Teas
Event Price: $172.00, excluding tax and gratuity
for a total of $220.00 per person.
Tickets non-refundable. We are happy to accommodate guests' dietary concerns, so all may join the festivities.
Please email chezlauberge@aol.com or call 703-759-3800 with special requests.
Patrons will have an opportunity to purchase these wines, and an additional Bastille Day Featured Champagne at a very special price.
We're sorry, but all tickets sales have ended because the event is expired.