"La Fête Nationale" Bastille Day Musical Brunch Experience Featuring the "Oh-So" French Music of Nancy Scimone & Pianist Wade Beach


July 17, 2022




11:00 am - 1:00 pm
La Grande Tente Garden Terrace
Join us Sunday July 17th at 11:00am as we kick off a celebratory Bastille Day Celebration Sunday at L'Auberge Chez François! Enjoy an exquisite musical brunch featuring the beautiful tunes of vocalist Nancy Scimone and pianist Wade Beach.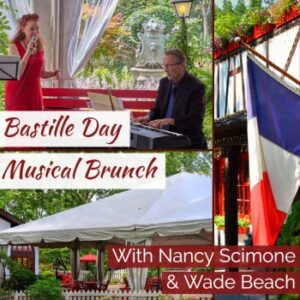 Nancy and Wade will celebrate and entertain you with romantic and glamorous French classics and favorite French chansons. Nancy Scimone's "winsome elegance" (The Washington Post) paired with the artistry of master jazz pianist Wade Beach promise a memorable and festive Bastille Day Brunch at L'Auberge Chez François.
Our Bastille Day Celebratory Brunch will be offered on our covered garden terrace 40ft x 55ft Grande Tent. Complete with six cooling fans, café bistro lighting, pastoral views of our six acres, two on-site gardens, koi pond, and blooming flowers! In such a gorgeous, lush setting, you will be sure to enjoy our special Fête National.
Celebrate the Francophile in you and toast with Chef Jacques to kick off Bastille Day with this delectable Sunday French-inspired brunch menu accompanied by Crémant d'Alsace, Famille Hugel's Gentil, Papa's Pilsner and Bloody Mary's as you enjoy this "not to be missed" event accompanied by beautiful French music. Chef Jacques and "The French Connection" at L'Auberge Chef François will sing, of course, their rendition of the French National Anthem.
Vive la France, Happy La Fête Nationale, et Bon Appétit!
BASTILLE DAY CELEBRATORY BRUNCH MENU EXPERIENCE
Brunch Cocktails: Crémant d'Alsace, Hugel Gentil, Papa's Pilsner, Garden Bloody Mary's
Corbeille de Pain
Assorted Breads, Chef Pascale's House-Made Croissant, Local Butter
A Bastille Day Celebration Seasonal Garden Fresh Cucumber Vichyssoise, Garden Kale
Main Course (Choice of One):
Seafood Crepe-Medley of Lobster, Scallops and Shrimp, Lobster Bisque Sauce, Garden Ratatouille
-or-
Creekstone Farms Natural Filet Mignon Benedict, Organic Eggs, Sauce Choron, Roasted Potatoes, Garden Ratatouille
Trois Couleurs Napoléon with Local Raspberries and Blueberries
Locally-Roasted Coffee, Harney & Sons Fine Teas
Event Price $90.00 excluding tax and gratuity, for a total of $115.00 per person.
Tickets non-refundable. We are happy to accommodate guests' dietary concerns, so all may join the festivities.
Please email chezlauberge@aol.com or call 703-759-3800 with special requests