August 30, 2019




7:00 pm - 9:00 pm
Friday, August 30, 2019 from 7:00 PM-9:00 PM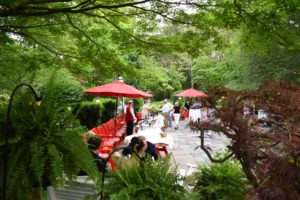 Please join Chef Jacques' and his team on Friday, August 30th, 2019 from 7:00 PM – 9:00 PM as we offer you a delightful way to kick off your Labor  Day Weekend, outdoors, under the stars on our beautiful L'Auberge Chez François terrace (weather permitting), sipping fine wines while enjoying Chef Jacques seasonable canapes and bites, and listening to live music. Does life get any better than this?
Our sommeliers will be on-hand to guide you through a delectable tasting of eight fine wines from some of the world's notable wine growing regions.  Why not stroll, with your wine, of course, to our two on-site budding vegetable and herb gardens, and tap your toes to our live music by Stephanie Ball
Stephanie is a native of Reston, Virginia that has been performing music locally in bands and duos for over 15 years.   She is an experienced lead singer, pianist and backing vocalist that delivers a fun and dynamic performance.  She performs popular cover songs where there's always something for everyone. Her diverse set list includes artists such as Fleetwood Mac, Chris Isaak, Tom Petty, Norah Jones and Elle King.
All wines sampled will be available for purchase at a very special "trade" discounts for our customers that evening only. Merci beaucoup and see you there! Happy Labor Day Friday!
In case of inclement weather, we will move the event to our Rooster Room, with the same festivities.
$62.00
excluding taxes and gratuity for a total of $79.00
Tickets non-refundable
We are happy to accommodate guests' dietary concerns, so all may join the festivities.
Please email chezlauberge@aol.com or call 703-759-3800 with special requests
Patrons will have an opportunity to purchase these wines at a very special price this evening.